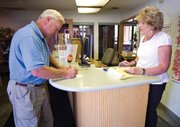 Steamboat Springs — The celebration of Independence Day in Steamboat again will be packed with tradition, but local lodging properties won't be as packed with guests.
"Last year on Saturday, July 1, we were rockin'," Mike Lomas said. "And we stayed rockin' through the third, then dropped off a little on July 4. This year, July 4 is very normal," for a Wednesday in summer.
Lomas is the general manager/vice president of the Steamboat Grand Resort Hotel and Conference Center.
The lodging barometer prepared by the Steamboat Springs Chamber Resort Association on Wednesday forecasts lodging for Wednesday, July 4. It anticipates area properties will be 48 percent full with 7,300 people in town. However, the Chamber's historical records show that number could easily grow by more than 1,000 visitors.
Even so, tourism is expected to lag next week when compared to last year.
Lomas said it's more beneficial for tourism when July 4 falls on a Tuesday. When that happens, vacationers tend to leave home late Friday afternoon in time to comfortably arrive in Steamboat, then stay at least through Monday.
Property managers expect it to be a different story this year.
"It's not going to be as robust as last year," said Jim Spillane, president of Mountain Resorts. "We're not off dramatically - it's by single digits. The big reason is the fourth falls on Wednesday. It's just too much stuck in the middle of the week."
Mountain Resorts, together with its parent company, Resort Group, manages more than 2,000 rooms or condos in Steamboat. Spillane feels Thursday is the ideal day of the week for Independence Day.
He said while many people can swing a four-day holiday weekend, five days are a little too much to ask.
And, although year over year comparisons can be influenced by conventions, there are indications the holiday falling on a Wednesday will detract from the weekend preceding the Fourth.
The Chamber was anticipating 11,100 visitors would stay overnight July 1, 2006, and 12,179 actually showed up. By comparison, the Chamber is expecting 9,000 visitors to spend the night here this Saturday.
An early snapshot of Saturday, July 7, predicts it will be busier than the Fourth, with 9,500 guests in town.
Spillane said it's worth keeping in mind this year's tourism levels correspond closely to the summer of 2005.
"Time will tell," he said. "People were hoping last year was a trend. Maybe last year will turn out to be an aberration."