Fiddlin' with strings
Eileen Ivers plays and feels the music of Ireland
Past Event
Friday, June 29, 2007, 8 p.m.
Strings Music Festival, 900 Strings Road, (Corner of Mt. Werner Rd & Pine Grove Rd), Steamboat Springs
All ages / $33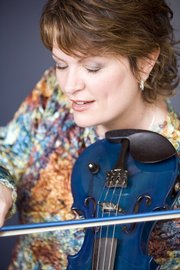 Brent Rowan and friends
Two-time Academy of Country Music Guitarist of the Year Brent Rowan will return to the Strings Festival on Sunday.
A local who splits his time between Nashville and Steamboat Springs, Rowan has played with country giants George Strait and Shania Twain, and classic rockers Lynyrd Skynyrd.
Joining Rowan this year will be Beth Nielsen Chapman, who has recorded with Faith Hill and Willie Nelson, and Skip Ewing, whose songs have been recorded by Trisha Yearwood and Tim McGraw.
Key points
¤ Brent Rowan and Friends
¤ Strings in the Mountains Music Tent
¤ Sunday, July 1st, 7 p.m.
¤ $39, call 879-5056
Eileen Ivers' first lesson on the violin was from an Irish immigrant who taught in the back of his pub in the Bronx. From such a small beginning, Ivers never expected to be hailed as the Jimi Hendrix of the fiddle.
Ivers' Irish parents made traditional Irish music and dance a significant part of her childhood.
"I really had the true sense of being an Irish-American," Ivers said. "My parents really nourished our heritage."
Trained on the fiddle, Ivers won nine All-Ireland Fiddle Championships as an American-born musician.
"I was able to really play and feel the music as if I was from Ireland," Ivers said.
After playing with "Riverdance" during the late 1990s, Ivers decided to form the group Immigrant Soul. The band includes Tommy McDonnell on percussion and vocals; Isaac Alderson on the uilleann pipes, flutes and whistles; Greg Anderson on guitar; and Leo Traversa on bass. The band has been together for almost 10 years.
"I love to keep challenging myself and growing as an artist," Ivers said. "It's such a privilege to perform, especially with these great musicians."
Immigrant Soul, which plays more than 100 shows a year, has shared the stage with a diverse list of artists, ranging from the National Symphony at the Kennedy Center in Washington, D.C., to The Chieftains and Hall and Oats.
Ivers and Immigrant Soul, though mainly a Celtic group, pull on many different influences to create music that connects Latin, African, soul and symphony.
"All of us bring a range of talent musically that can really help widen the palate," Ivers said. "What we play is still a testament to Irish music, but it's really gone on to grow and develop."
In addition to the traditional fiddle, Ivers plays the electric violin.
"It's so fun to kick in with the electric sound," Ivers said. "The audience never thinks it's possible to go there with the violin."
Tonight's show is a return to the Strings in the Mountains series for Ivers and Immigrant Soul.
"We're thrilled to come back," Ivers said. "Steamboat is full of good memories and a fun, warm audience."