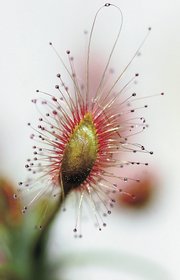 Steamboat Springs — We all know to watch out for wildlife, biting insects and toxic plants when hiking the Routt National Forest or Zirkel Wilderness Area, but did you know there's a little-known carnivorous plant living in our wilds?
Sundews (Drosera rotundifolia) are beautiful plants that feature leaves covered with glistening red hairs that are very attractive to insects. When an insect gets too close, it gets stuck in the sugary dew and the hair tendrils begin to close around it, releasing an enzyme that decomposes the body so the plant can absorb the nutrients.
The Colorado Native Plant Society sponsors field studies of a variety of plant life in our state and last summer set out to survey wet areas (in particular, fens) in search of the round-leaved sundew. Of five Routt National Forest sites visited by the participants, three of them had sundews. Another location in the Zirkel Wilderness Area known to have had sundews will be visited at a later date.
While the researchers would not give specific information as to exactly where in the forest they found these specimens, they did say the plant can be found only in a "waterlogged and nutrient-poor environment" where it obtains its nutrients by eating insects. Such an environment would be in a basin area with floating Sphagnum peat mats often with willow, sedge and spruce and alder trees nearby.
If you ever happen upon one of these plants, please just enjoy it. Sundews are quite rare and should not be harvested from the wild. There are, however, vendors who sell plants and seeds for those who have an interest in growing sundews in their home garden or terrarium. Check with your favorite garden center or Google the Web to learn where you can purchase seeds and how best to grow this plant.
For more information about sundews and other carnivorous plants, visit www.carnivorousplants.org. To learn more about the Colorado Native Plant Society, log on to www.conps.org.
Deb Babcock is a Master Gardener through the Colorado State University Cooperative Extension Service Office in Routt County. Questions? Call 879-0825 or e-mail gardeners@co.routt.co.us.