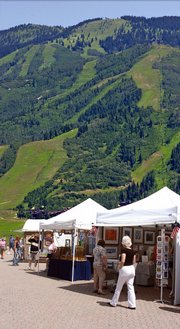 Past Event
Tuesday, July 3, 2007, 10 a.m. to 4 p.m.
Gondola Square , 2305 Mount Werner Circle, Steamboat Springs
Not available / Free
Steamboat Springs — Expect crowds next week at the base of the Steamboat Ski Area - but not the type carrying skis and wandering through lift lines.
Vendors will fill the base area Tuesday and Wednesday to sell their unique crafts during Art on the Mountain. The bazaar-style flea market will feature a variety of works, including handcrafted jewelry, clothing, pottery and photography.
Art on the Mountain coordinator Nancy Trimmer described the event as a "mini Art in the Park," referring to the upcoming art and vendor show at West Lincoln Park in July.
"It's a more intimate affair," Art on the Mountain coordinator Nancy Trimmer said. "We aren't as big, but the quality of the work is incredible."
In its sixth year, Art on the Mountain has a following of vendors who said they particularly enjoy coming to Steamboat.
"The festival is smaller, which is unique," said photographer Robb Kurth of Fort Collins.
A former resident of Steamboat, Kurth now has his own company, Images of Earth, which focuses on nature photography in Routt County. Kurth, who will attend his fifth Art on the Mountain next week, said this show is special for several reasons.
"It's a really laid-back atmosphere," Kurth said. "But at the same time, it attracts so many fine artists."
Located at the base of the ski area in Gondola Square, Art on the Mountain features local artists as well as those from the surrounding regions and statewide.
"People are able to enjoy what the ski area has to offer in the summertime as well as see what the vendors have to sell," Trimmer said. "It's a really nice addition for visitors and locals alike.
"The vendors really want to come here over the Fourth (of July). Steamboat really holds a special place for them, as well as anyone who comes to visit."
As for the construction happening at the base area this summer - Trimmer doesn't expect any additional problems.
"We're doing what we can to educate people that Ski Time Square and the gondola are open this summer despite the construction," Trimmer said.
Parking will be available in the underground and Knoll parking lots.