Look who bikes to work: Don Schwartz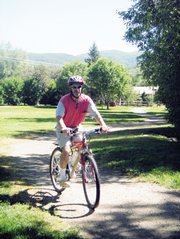 Steamboat Springs — Steamboat Springs celebrates Bike to Work Week this week. The Steamboat Pilot & Today will profile a local bike commuter each day of the week, courtesy of Emmanuelle Vital, the city's Bike Friendly Community coordinator.
Don Schwartz
Occupation: Elementary school teacher
Commute: Don commutes on his bike year-round from Old Town to Strawberry Park Elementary School. He sometimes walks or skis depending on the amount of snow.
1. Why do you commute?
"It's a nice way to start the day, it is easy and nonpolluting."
2. How do you prepare for your bike commute?
"I don't do much unless it is very cold, then I make sure I bundle up. It's pretty simple - I strap my briefcase to the back and take off."
3. What route do you choose?
"I go through Butcherknife Canyon. I think I have one of the best commutes in America."
4. Do you have any tips on making bike commuting a good experience?
"Once you start doing it, you will realize how enjoyable it is."
5. Does your employer promote commuting?
"The school organized Bike to School Day in the past, and this spring the Strawberry Park Elementary School Green Team organized a commuting contest to promote walking, biking or taking the bus to school."