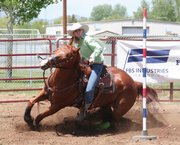 Steamboat Springs — It has been a while since Joel Schlegel was the 95-pound freshman that got bucked off a bronc and landed hard under a broken arm.
The Burns resident and recent Soroco High School graduate manages much longer bareback rides these days. After a successful fall rodeo season returning to bareback riding, Schlegel "got determined to work" during the spring season and had a string of top finishes that helped him enter last weekend's Colorado State High School Rodeo Association state finals just two points shy of state leader Bradley Dennison.
After a good first of three rides, Schlegel got bucked after seven seconds on his next ride.
"I got jerked real hard - I didn't do so good," Schlegel said.
Schlegel had a high-scoring final ride in the short go-around, only to see Dennison (who had two solid first rides) get bucked. Dennison, a Cortez rider, ended up beating Schlegel by two points in the cumulative season standings. But Schlegel wasn't too upset considering that one second on his second ride was all that separated him from a state title.
"It's just what happened, you can't worry about it," said Schlegel, happy to have finished the season in the top four to earn a berth to the National High School Rodeo Finals from July 22 to 28 in Springfield, Ill.
"The pressure is off now," Schlegel said about accomplishing his goal of making nationals. "Everyone is back to zero there, everyone can win. If I draw good and ride as good as I can, that'll be great."
Other area riders with their sights set on nationals didn't fare as well. Kacey Bull, who just finished her sophomore year at Steamboat Springs High School, qualified for state as a top 15 barrel rider, and she also competed in pole bending. Bull arrived late Wednesday night from an elite Amateur Athletic Union volleyball tournament in Orlando, Fla., and was in Golden by 6 a.m. for a Thursday morning feed. Bull had great Thursday and Friday barrel rides of 18 seconds to earn her fifth- and seventh-place finishes, respectively, but her season points still placed her too far from a top-four finish.
"I was happy - I didn't have a good season with my horse, Randy," Bull said. "My horse has been hurt since last year's state finals, but I was glad we finally pulled together at the end with some really consistent rides this weekend."
Bull finished 12th in barrels and 15th in pole bending.
Former Steamboat Springs resident Travis Darling, a recent Ignacio High School graduate, wrapped up a state title in the horse cutting competition and took second in saddle bronc riding. Both Darling and Schlegel plan to continue rodeo competition next year at the collegiate level. Darling will attend Casper College in Wyoming, and Schlegel will attend Vernon College in Vernon, Texas.