Ingalls impresses
Skier proves she can pedal at Town Challenge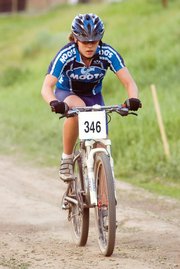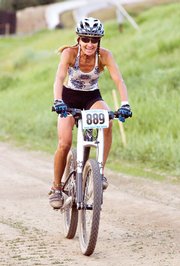 Steamboat Springs — It's hard to imagine a 16-year-old keeping up with a pro and former world champion.
But Katherine Ingalls isn't your normal 16-year-old.
She's a national champion cross-country skier and Wednesday at the third installment of the Steamboat Springs Town Challenge Mountain Bike Series, Ingalls showed why she's just as promising on pedals as she is on skis.
Ingalls finished second in the women's expert division, just seconds behind former professional rider Karen Tremaine and seconds ahead of former 24-hour world champion Katie Lindquist.
"I love it," Ingalls said after the Howelsen Hill Summer Sizzler Cross-Country race. "It's a good supplement to the other races I do. This really pushes me."
Ingalls started in third before making her push toward the second hill. By the time she reached the last hill, she was right on Tremaine's heels, but the veteran's experience proved too much.
"At the end, I was trying to catch her," Ingalls said. "I couldn't, but I really like these Town Challenges for the training. In state and nationals, it's usually 18 to 25 miles and these are usually 10. It's great competition, and it's great fun."
On the men's side, Barkley Robinson returned to the familiar position of top rider in the men's pro/expert division after finishing just out of the top position the last two Town Challenge races.
Last year, Robinson won seven of the eight Town Challenge events.
"I'm starting to feel good," said Robinson, who had back surgery in December to repair some nerve damage in his legs. "I've been injured, but I feel like I'm getting back to full strength."
Robinson jumped into the lead right away and really pushed the pace on the opening hill to open up a big lead against second-place finisher Brad Bingham and third-place finisher Nate Bird.
Robinson said the Town Challenge is bringing out better and better riders.
"There are a lot of great racers in this series," said Robinson, who is preparing to head off to France for a road race and to catch a couple of stages of the Tour de France. "Every week it's a tough battle."
The next town challenge race is the July 11 Mount Werner Hill Climb. Because of construction at the Gondola base, the race will start at the bottom of the Thunderhead chairlift. Visit www.townchallenge.com for more details.