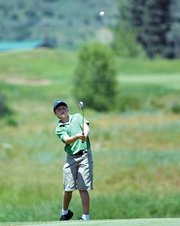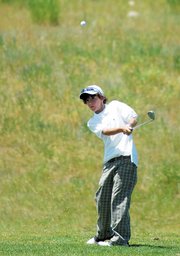 Steamboat Springs — Jim Knous and Tyler Conwell both gave chase, but at the end of the 2007 CJGA Haywhacker Championships first-round leader Michael Tilghman of Littleton was still on top.
"It's tough to sit on a lead," Tilghman said. "This course offers a lot of risk-reward shots, so I just went for it today."
The effort paid off as Tilghman matched his opening day round of 72 to finish at 144 for the tournament. It was the type of round Basalt's Knous expected. He opened the day three strokes behind the leader and needed a strong round to make a move.
Unfortunately, things didn't start out too well for the Western Slope golfer. After the first three holes Tuesday, Knous was four strokes over par, and Tilghman was pushing the pace.
"I birdied all four of the par-5 holes, which really helped a lot," Knous said. "When I stepped off this morning, I was within three strokes of the leader. I was thinking that I could win this tournament, and it may have gone to my head for the first few holes."
Knous recovered to finish with a round of 73, two strokes better than Monday's round. Finished the tournament at 148 four strokes from the win. He tied Littleton golfer Tyler Conwell, but won a scorecard playoff to finish second.
Tilghman said he wanted to stay aggressive on the final day and finished with what he referred to as a colorful scorecard.
"There were lots of ups and downs," he said. "But I like the two-day format of this tournament. It helps determine who the best golfers are."
Tilghman, who will be a senior at Regis Jesuit High School in the fall, won the 16- to 18-year old division at the Haywhacker in 2006, and says he enjoys playing this course.
"The important thing is to hit the fairways and greens and then score with your putter," Tilghman said. "That was the game plan today."
Other highlights on the final day of the Haywhacker included another strong showing by Greeley's David Oraee who just turned 14 a few days ago. That didn't stop him from dominating the 14-15 boys division, which was played on a slightly shorter course than the 16-18 boys and championship divisions.
"I just tried to play it smart out there and it paid off," Oraee said.
Oraee finished the tournament three strokes under par thanks in part to his round of 70 on the final day. Oraee was 15 strokes better than second place finisher Michael Lee, also from Greeley, and 21 strokes better than Lone Tree's Zachary Fowlds.
"It's hard to think that he will not be moving up to the championship division soon," tournament director Dustin Jensen said at the post tournament awards ceremony.
Other winners at this year's Haywhacker included Chang Lee who shot rounds of 80 and 78 to win the boys 16-18 division. He finished one stroke better than Rifle's Shawn Cruse (159) and two strokes better than Edward's Dustin Martin.
Castle Rock's Allie Johnston just held off Cherry Hills' golfer Kasha Scott and Craig's Amber Nicholson on the final day.
Johnston, who opened the tournament with a round of 83, slowed a bit Tuesday to finish at 170. Scott fueled her comeback bid with round of 82 on the final 18, but finished one stroke behind Johnston at 171. Nicholson, who was the most consistent in the girls' field with rounds of 86 and 85, also finished one stroke back at 171.
Fort Collins' Palmer Giro shot back-to-back rounds of 38 for a healthy win in the boys 11-13 division. The next four Front Range competitors all finished with combined scores of 81, led by Longmont's Dylan Wonnacott, who matched Giro's Tuesday round of 38.
Patrick Weston was the top local finisher at 114.
On the girls' 11-13 side, it was a showdown between Centennial's Katy Dyachkova and Claudia Davis, who bested Dyachkova by a stroke Tuesday for a 43, but fell behind Dyachkova's combined score of 87.
-To reach John F. Russell call 871-4209
or e-mail jrussell@steamboatpilot.com