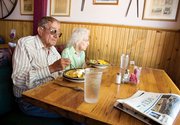 Hayden — A controversial statewide smoking ban is still resented by some business owners a year after going into effect. Others are finding the law didn't have the negative impact they feared.
Monday marked the one-year anniversary of the Colorado Clean Indoor Air Act, which banned smoking in public places and workplaces statewide, including restaurants and bars.
A municipal smoking ban has been in effect in Steamboat Springs for two years so the state ban had little impact. But the state ban was largely opposed in Hayden and Oak Creek, where letters were sent and petitions were circulated to no avail.
A year did nothing to cool passions at the HiWay Bar in Hayden on Tuesday, where mention of the ban elicited heated responses. When two patrons at the bar were asked if they would be smoking if not for the ban, they quickly responded with a "yes."
Fawna Odom, owner of the HiWay Bar, estimated that there has been a 20 percent decline in business in the year since the smoking ban went into effect.
"If they can stay home and have a cold beer and smoke, why are they going to come down here, pay more and not smoke," Odom asked. "My point on the whole thing is that everyone should have a choice. They're just taking away more and more and more of our rights."
Hayden Town Manager Russ Martin said the ban was strongly opposed in town from a business perspective.
"It's not something we would have considered," Martin said. "I don't think the town would have passed such an ordinance."
At The Food Mill Restaurant across the street from the HiWay Bar, owner Alaine Montgomery offered a different perspective.
"Some of the smokers haven't been back, but a lot more people come in because there's no smoke," Montgomery said. "People come all the way from Meeker just to eat our burritos."
Montgomery said, overall, business has stayed about equal, if not better.
Dan Bubenheim, co-owner of Black Mountain Tavern in Oak Creek, has had a similar experience.
"As far as I'm concerned, it's helped us," said Bubenheim, who is a smoker. "Personally, I think we've made a really big step in increasing the type of customers we have."
Bubenheim said many of his bar patrons protested the ban for a few months by not coming in, but that they have slowly trickled back. He said many of his restaurant customers say they never came into the tavern before because of the smoke, which Bubenheim said he can relate to because he hated walking into a restaurant that smelled like smoke every morning.
Bubenheim said Black Mountain's business has doubled during the past six months but couldn't say if the smoking ban has had anything to do with it, since the restaurant is only a few years old.
Elk's Tavern in Oak Creek, which is principally a bar, has suffered because of the ban. Elk's Tavern owner Shirley Montieth said a lot of people who used to come into her bar don't anymore.
"Let me put it this way, 95 percent of the people who came in were smokers," Montieth said.
Whether people support or oppose the ban, all seem to be obeying it. Hayden Police Chief Ray Birch said enforcement of the ban has been a non-issue.
"We anticipated having more of a problem with the enforcement, but there hasn't been," Martin said.
Odom said her customers have been "good sports" about the ban, stepping outside to smoke, even in very cold weather. The HiWay Bar also has seating at an outdoor patio, where Odom allows patrons to smoke.
Montieth, however, doesn't have the benefit of an outdoor area for smokers and said she has been "getting a lot of guff" from other businesses for customers smoking outside on the sidewalk.
According to the State Tobac-co Education and Prevention Partnership, air pollution in hospitality venues has improved by almost 70 percent in the past year. The improvement in bars and taverns was 90 percent, according to the study. Overall, air quality in bars, taverns and restaurants changed from an Evironmental Protection Agency rating of "unhealthy" to "good."
According to the organization Smoke-Free Colorado, tobacco is the leading cause of preventable death in Colorado, where 17 percent of adults smoke.
- To reach Brandon Gee, call 871-4210
or e-mail bgee@steamboatpilot.com