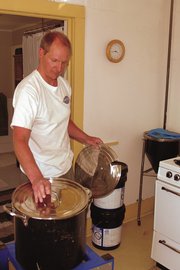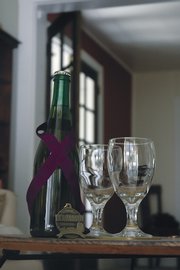 Hayden — For Gordon Schuck, brewing beer is an art.
"It's really creative," Schuck said. "You try and envision a taste you're going for, and you start making the beer and try to achieve that taste. Sometimes it works and sometimes it doesn't. That's the challenge. I think I like that challenge."
Schuck submitted some of his "artwork" in May to the 29th annual American Homebrewers Association National Homebrew Competition. Schuck was one of 1,172 home-brewers combining to submit a total of 5,052 beers to the competition. On Saturday, one of Schuck's entries won one of the contest's 28 gold medals at an awards banquet in Boulder.
"I was completely shocked," Schuck said. "Last year, I had three beers go from regionals to nationals, and they didn't win. This year I only had one and - low and behold - it won."
Shuck's beer won gold in the Belgian and French Ale category, for which there were 298 entries. Schuck's winning beer is named "Saison d'Ete." Saison is a pale ale originally brewed in Wallonia, the French-speaking region of Belgium. Schuck described his saison as a "rustic, farmhouse ale" with spicing reminiscent of a red wine; it is one of his personal favorites. It has an alcohol content in the range of 6 percent to 6.5 percent.
Schuck's home-brew process takes about four months, from mashing raw grain to fermentation and followed by a few months of maturity.
"This is one that's gotten better as it has matured," Schuck said of his saison. "I wasn't too impressed with it at first."
Schuck does not sell any of his brews, and he gives many of them away to co-workers at Moots Cycles in Steamboat Springs, making him a popular man around the workplace.
"The sort of stuff I do is kind of obscure, so I get some looks," Schuck said. "But yeah, beer is always popular."
David Dietrich, a salesman at Moots, said Schuck's brews are very good, if sometimes "a little high octane."
"We're kind of his guinea pigs," Dietrich said. "Pretty much every beer he brings in, he gets a standing ovation for. They're just phenomenal. I can see why he got the gold."
Schuck started home-brewing five years ago. He said he was always interested in the hobby, and when he mentioned it at work, he found out several of his co-workers had dabbled in home-brewing and provided him with most of his equipment for free.
Schuck said his recent award comes from the most prestigious home-brew competition in the country, but that didn't mean a huge prize. In addition to his medal, he also received a "self-pressurizing beer dispensing system."
"I haven't figured out exactly what it does yet," Schuck said.