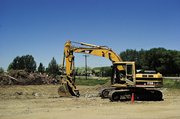 Hayden — The Hayden Planning Commission will consider revisions to the site plan for the Creek View Townhomes and Plaza development on the west side of town at its meeting Thursday.
Hayden Town Manager Russ Martin said town staff have recommended the commission approve the revisions, which include the removal of one of three townhouse buildings and a flip in orientation for a second townhouse building.
Martin said the revisions don't present a big issue, but they are substantial enough to warrant approval from the planning commission. The Creek View development was approved by the Hayden Town Board on June 29, 2006, and in the year since, developer Stefanus Nijsten has installed utilities, worked to identify floodplain boundaries and opened the Dry Creek Pub and Restaurant.
"They can do small revisions after approval, but this isn't a small revision," Martin said of the new site plan.
Nijsten said anything could happen at the commission meeting Thursday, but he expects his revisions will be approved. Reducing the number of townhouse buildings from three to two would give the development 10 townhomes, rather than 15. The available space would join a previously planned empty lot for commercial development. Nijsten said he envisions a motel eventually occupying the lot, which sits across a yet-to-be-paved street from the restaurant.
Nijsten said the first stage of the development is expected to be complete by spring 2008, with the second stage, which includes the townhouse buildings, expected to be complete in summer or fall 2008.
The development is on a 3.21-acre parcel south of U.S. Highway 40, east of Dry Creek and west of an alley between Fifth and Sixth streets.