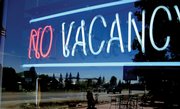 Craig — Workers began arriving at the Bear Valley Inn of Craig in the early spring and never stopped coming.
"We've been sold out since the first week in April," inn owner Jay Patel said. "We haven't had a vacancy. It's a lot of oil and gas workers and some construction workers."
That's good news for the motels in town, which are staying busy with steady business provided by energy workers.
The problem facing those workers is what to do when hunting season arrives and the motels are already booked with hunters.
"They get kicked out," said Randy Looper, owner of the Elk Run Inn. "Hunters are here year after year. They come back again and again. I tell renters that the room is available until hunting starts, then they have to go."
The room shortage also was felt briefly during the recent Ride the Rockies, when a number of rooms were vacated of energy workers to accommodate the bikers who had made reservations a year earlier.
Most motels have been booked with hunters for dozens of years, with some reservations that are never surrendered, even by hunters who can't make the trip.
"I've had hunting guys coming for 20 years," Looper said. "If they can't make it one year, they get a friend to take that spot for a season."
Looper said he understands energy workers' plight, but he said those workers understand room shortages are in the nature of their jobs. After they leave town, the next energy workers will fill the rooms that become available.
"The Grand Olde West Days, Little Britches Rodeo and Sea Sharks is where we make our money," Looper said. "The oil companies are good for business, but it's not how we survive."
At the Bear Valley Inn, Patel is a new owner with seven-months in the business, but he already is prepared for the upcoming arrival of hunters.
"Some people are mad when we tell them the room is reserved, and we have given some free nights as compensation," he said. "But the hunters are the same people that were here last year, and they reserved their rooms before they left."
At the Craig Chamber of Commerce, the calls for lodging have started earlier than in previous years.
"We're already getting calls," Chamber Director Christina Currie said. "People want to know where to stay and what hotels we can recommend. We can't recommend any because they are full already."
Currie said normally the rush begins when people buy over-the-counter hunting licenses in the fall. This year, however, hunters are calling much earlier seeking rooms.
The Chamber keeps a list of spare lodging, noting extra rooms in homes or campers that are available for a time, but Currie still foresees a severe room shortage in the fall.
"Once they begin to arrive, it could be a nightmare," she said. "We might have hunters sleeping in trucks."