Tom Ross
Tom Ross' column appears in Steamboat Today. Contact him at 970-871-4205 or tross@SteamboatToday.com.
Find more columns by Tom here.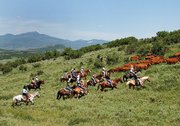 Steamboat Springs — Nearly every time you climb a hill in Northwest Colorado, you discover a new view of a geographic landmark.
On Sunday afternoon, we stood high above Dumont Lake and squinted at a distant peak that was in the general direction of Vail. After consulting a map, I'm going to take a wild guess that it was 13,534-foot Mt. Powell. But I could be full of pork and beans.
If you've never hiked to the base of the Rabbit Ears rock formation, it's worth it to head up there for the views.
The rocks that resemble bunny ears are actually lava plugs left behind by an eroded volcano. Standing between the ears, turn to the north and you can see all the way to Wyoming - specifically, you can clearly see Medicine Bow Peak, almost 25 miles across the state line west of Laramie. Turn back 180 degrees to the south and you can make out 13,684-foot Bald Mountain, off beyond the Gore Range near Breckenridge (at least a friend told me that's what I was seeing, and I trust him).
To the west, the 12,485-foot Nokhu Crags are unmistakable in the extreme southern end of the Colorado State Forest on Cameron Pass.
The Forest Service gate at the bottom of Forest Road 311 on Rabbit Ears Pass still is closed and likely to remain that way until this weekend. That means if you want to take a direct route to the Rabbit Ears rocks, you'll have to hoof it an extra mile or pedal your mountain bike up the bumpy road from the parking lot.
The road to Buffalo Pass remained closed June 26, but when it opens for the summer it will pave the way to some really spectacular views. From Summit Lake, hike north along the Wyoming Trail and expect to walk over some snowdrifts as you climb in the direction of Mount Ethel. A brisk walk of 1.5 miles will bring you to a high overlook with views of Longs Peak on the east side of Rocky Mountain National Park. Turn again to the south and see if you can make out a snowy peak well beyond the Flat Tops. Could that really be Mount Sopris near Carbondale?
Nothing quite matches Sand Mountain south of Steamboat Lake for a view you never thought you'd see. Name another mountaintop in the region where you can stand in one spot and take in views of both downtown Steamboat Springs and Craig simply by turning your head. Sand Mountain is that spot. From Steamboat Lake State Park, the dished out bowl of Sand Mountain looks scary. But the summit itself is broad and flat. It's often windy, and you wouldn't want to get caught up there in a lightning storm, but it's otherwise safe. And the view of the entire Yampa Valley is like nothing you've ever seen.
Assuming you have a rugged vehicle, it's surprisingly easy to hike to the summit of Sand Mountain in late summer. Just follow Routt County Road 62 around the west end of the lake and watch for a turn on Forest Road 42. It's a rugged road, but passable for passenger cars. However, you'll need to make a turn on Forest Road 480, which demands a good map and a high-clearance vehicle. If you're motivated, you can hike to the peak from Forest Road 42. If your vehicle can handle Forest Road 480, you can park a mile from the summit.
Of course, that last mile is a doozy on the way to the 10,847-foot peak, but you'll be glad you made the effort. Trust me on this one.