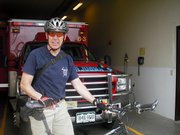 Steamboat Springs — Steamboat Springs celebrates Bike to Work Week this week. The Steamboat Pilot & Today will profile a local bike commuter each day of the week, courtesy of Emmanuelle Vital, the city's Bike Friendly Community coordinator.
Mel Stewart
Occupation: Emergency medical service battalion chief
Commute: Mel rides to work three to four days of the week, year-round, from the Brooklyn neighborhood in downtown Steamboat to the Mountain Fire Station on Pine Grove Road.
1. Why do you commute?
"It gives me a little bit of exercise, it save gas, it is environmentally friendly and it is as quick as driving."
2. How do you prepare for your bike commute?
"I carry a messenger, briefcase-type bag to bring my lunch, paperwork, radio and cellular phone and sometimes a rain coat in the summer. I use it to carry layers of clothes that I wore during my morning commute and don't need when I return home and the weather is warmer during the summer or winter. I keep my work clothes at the station."
3. What route do you choose?
"Most of the time I ride the Core Trail. In the winter, I ride out River Road and get on Mount Werner, as it is sometimes in better condition than the Core Trail first thing in the morning."
4. Do you have any tips on making bike commuting a good experience?
"If you haven't commuted before, I would recommend two things:
n Leave earlier, so you don't have to rush
n Make a commitment to do it once a week. Once you are used to it, it becomes something very easy to work into your schedule."
5. Does your workplace promote commuting?
"We have lockers and showers, and I leave my uniform here. We have limited parking, so we are welcome to bring our bikes in the building to leave them out of the weather. The city of Steamboat Springs has an alternative transportation contest, and every week there is a random drawing. The program also recognizes the person who uses alternative transportation the most."