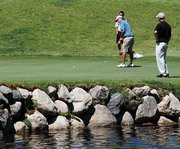 Steamboat Springs — An even-par round of 72 gave Greenwood Village golfer Michael Tilghman a two-stroke advantage on the first day of the 2007 Haywhacker Championship.
This marks the eighth year the Colorado Junior Golf Association has hosted the event at the Haymaker Golf Course in Steamboat Springs.
"This is by far our most popular event," said Dustin Jensen, director of youth programs for the CJGA. "We've developed a great relationship with Haymaker, and this has become a tremendous event."
This year the tournament drew a field of 188 golfers ranging in age from 11 to 18.
Tilghman led the boys championship division Monday, which played a 7,146-yard, par 72 course.
Headed into Day 2, Littleton golfer Tyler Conwell and Jay Tymkovich, of Broomfield, are both chasing the leader, just two strokes off the pace at 74.
Five golfers, including Greenwood Village's Sam Schweitzer, Loveland's Colin Hendrickson, Basalt's Jim Knous, Boulder's William Skinner and Loveland's Nick Trumbo, finished three strokes off the pace at 75.
Dustin Martin, of Edwards, topped the boys 16-18 division, with a round of 77 on Monday. Denver's Chang Lee was second at 80, and Rifle's Shawn Cruse was third at 82.
Greeley golfer David Oraee took a commanding lead in the 14-15 age division with a one-under-par round of 71 on the opening day. That division played a slightly shorter course (6,690 yards compared to 7,146 yards) than the older classes. Greeley's Michael Lee was six strokes back at 77, and Littleton's Joseph Smith was third at 81.
Chris Weinstein, of Highlands Ranch, and Fort Collins' Giro Palmer led the boys 11-13 division with rounds of 38. Calvin Dorsey, of Denver, and Niwot's Jack Adolfson are just behind the leaders at 41.
Allie Johnston, of Castle Rock, leads the girls 14-18 division after opening the tournament with an 83. Amber Nicholson, of Craig, is second at 86, and Whitney Rahm is third at 87.
In the girls 11-13 division, Danielle Urman led the field with a score of 39. Choi Seungha and Katy Dyachkova both shot 43.