Hot holiday forecasted
Today's cold front will bring little respite from heat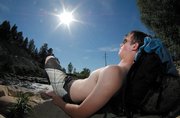 Steamboat Springs — Prepare for a hot holiday weekend.
Higher-than-usual temperatures are expected to continue at least until the Fourth of July, despite a cold front passing through Steamboat Springs today, according to forecasters at the National Weather Service in Grand Junction.
"You probably won't even notice it," meteorologist Jeff Colton said about the cold front, which will provide a brief and slight respite today before temperatures heat back up. "We're going to stay very warm for the next few days."
Colton said he expects temperatures to remain in the 85- to 95-degree range at least until late next week.
"Were running right there with the record highs," Colton said.
Yampa reached a record high Saturday of 85 degrees, but for the most part the mountains have not experienced the persistent record-setting heat of the Front Range. Colton said the current heat wave is a little above normal, but far from unusual. Following the Fourth of July, Colton expects more moisture to move into the region, bringing needed rainfall.
That's good news for Peter Van De Carr, owner of Backdoor Sports, which operates a commercial tubing business on the Yampa River. Van De Carr said a high and cold Yampa River is critical to his success.
"Hopefully it will rain in the next few days or so, or we'll be in trouble," Van De Carr said. "To break even, I need a July with water."
The volume of the river has dipped substantially during the past month, according to data measured by the U.S. Geological Survey. On May 25, the river's discharge - the volume of water that passes a given location within a given period of time - was more than 1,000 cubic feet per second. On June 16, the discharge was measured at about 500 cubic feet per second. The most recent figure available Monday showed the river flowing at 217 cubic feet per second.
Current river volume is way below the average for June 25. According to the USGS, the median discharge for June 25 is 990 cubic feet per second, and the mean discharge is 1,190 cubic feet per second. The figures are based on 97 years of records.
Colton said he expects decreases in river volume to continue until mid-summer while Van De Carr hopes for quick relief.
"Things could turn around in a couple of days, and that happens a lot," Van De Carr said. "We just got to trudge on optimistically."