Students trek cross-country in support of nonviolence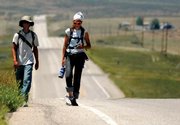 Two teenagers, traveling by foot across the country in opposition of global violence, arrived in Craig on Saturday afternoon, bringing with them a message of peace.
Michael Israel, 18, of Jackson, Calif., and Ashley Casale, 19, of Connecticut, began the approximately 3,000-mile "March for Peace" journey May 21 in San Francisco. The trip is scheduled to conclude Sept. 11 in Washington, D.C.
The two student marchers are both pacifists, they said, and are making the journey in protest to the war in Iraq specifically, and to all war efforts globally in general.
Other people around the country have joined the students for stints during the march, sharing Israel and Casale's vision for a nonviolent global community.
"I think everyone has their own reasons," said Israel, a recent high school graduate. "For me, it's the Iraq war. We can't just let our military sit in Iraq and be shot at every day. We need a new plan."
"It's a message we can get across. : The U.S. government could do so much more if it wasn't concentrated on an unjust war in Iraq," Casale said, citing the need for increased American involvement in Darfur and other countries where crimes against humanity are occurring.
Casale attends Wesleyan University in Middletown, Conn.
More broad themes of the march include the impeachment of President George W. Bush, civil disobedience to social injustices and the end of nuclear weapon holding and proliferation.
"Peace marchers do not simply advocate for the control of nuclear weaponry, but we demand the end of nuclear weaponry," according to the "March of Peace" Web site, www.marchforpeace.info. "We do not stand for the 'responsible' holding of nuclear weapons by certain powerful countries, but for the universal surrender of arms."
After a brief rest Saturday, the two students picked up and left Craig later the same afternoon. They stopped Sunday outside Hayden, and are scheduled to resume their trip toward Steamboat Springs today.
With about 1,000 miles of American soil behind them, the "March for Peace" is roughly one-third completed. The halfway point comes July 14 at Levi Carter Park in Omaha, Neb., where Israel and Casale will join a music festival and peace rally sponsored by the Nebraskans for Peace organization.
Casale said the price she and Israel are paying - months of long walks and hot temperatures hundreds of miles from home - is worth the reward of raising awareness to critical domestic and foreign issues.
"We've already come this far, so it's not too daunting anymore," she said. "We're in it for the long haul."