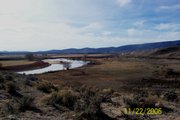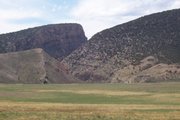 Steamboat Springs — Few Steamboat Springs Realtors pack lunches when they head out to show property to prospective clients. Penny Fletcher of Colorado Group Realty always brings a cooler packed with food and beverages when she takes clients west to visit Canyon Ranch and Yampa River Ranch in Moffat County.
The two ranches are about a two-hour drive from Steamboat and an hour west of Craig.
"I always plan to spend the day, but I'm always eager to take people out there," Fletcher said.
The Yampa River, where it flows through the sagebrush and juniper country of western Moffat County nourishes a very different kind of ranching landscape than prospective real estate buyers find in the upper Yampa Valley.
This is outlaw country, the "high lonesome" of the Old West. But there is ample water, a milder climate and opportunities for grazing yearling cattle and harvesting a high-protein hay crop.
Fletcher has listed both large ranches west of Maybell where the Yampa enters canyon country. They would be attractive to conservation buyers who are motivated to increase their investment and realize the full potential of either ranch, she said.
"These properties would appeal to that person who wants to have that Western lifestyle on a remote ranch where they can do their thing," Fletcher said.
The region between Maybell and Dinosaur National Monu-ment to the west is known for large herds of elk and deer, migrating waterfowl and bald eagles.
Yampa River Ranch encompasses 500 deeded acres of fenced land and 2.5 miles of river frontage to the centerline of the Yampa, where it winds through the property.
The only structure on the property is a large Quonset hut meant to be used as a machine shed. But there is ample flat land that would be suitable for a home site, Fletcher said. The ranch offers irrigated meadows, good grass for grazing and mature cottonwood trees along the river.
The asking price is $1.5 million.
The 932-acre Canyon Ranch is just west of Yampa River Ranch (13 miles west of Maybell) and on the edge of more rugged country with the slopes of Cross Mountain running right onto the ranch. The property has public lands on all sides with good access through BLM land.
The ranch includes 2.5 miles of both banks of the Yampa with substantial water rights. It is next to a wilderness study area and the property actually extends several hundred yards into rugged Cross Mountain Canyon, a Mecca for thrill-seeking kayakers and river rafters. There is a three-bedroom ranch house on the north side of the river. Because there is no bridge, it's a little more difficult to get to from U.S. 40 on the south side of the river. Fletcher anticipates a new owner would want to build a new home on the south side of the river to allow for an easy drive into the city of Craig.
The asking price is $2.4 million.
Brian Smith of Hall and Hall real estate in Steamboat specializes in rural properties. He said the market for Western ranches remains strong, with many interested buyers. However, unit volume is off a little from the past several years and requires a little more patience on the part of both sellers and buyers. Length of time on market has extended.
"A lot of ranches are priced aggressively," Hall said. "The deals are getting done, but the sales are being made when an individual buyer finds a property so appealing they are willing to step up and make an offer that will get it done."
Fletcher is confident of finding the right buyers for the two ranches. Anyone who prizes solitude, the opportunity to ride horseback for mile upon mile and the chance to drive off-road vehicles on their ranch will recognize its value, she predicted. A family of sportsmen that desires to acquire a ranch and enhance its wildlife habitat will find opportunity in either ranch, she added.