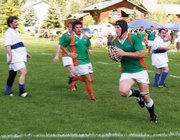 Steamboat Springs — With wins against longtime rival Vail and its first victory against Aspen since 1978, it'd be easy to expect the Steamboat Springs rugby team already accomplished its goals.
Not really.
With the 33rd annual Cowpie Classic taking place in Steamboat in two weeks, captain Michael Hurley and coach Graham Muir believe the 4-0 Steamboat rugby team's only partially to where it wants to be.
"I'd say we're going into the Cowpie with quiet confidence," Hurley said after Steamboat beat Breckenridge, 54-24, on Saturday at Whistler Park. "The team from Wyoming is the team to beat. They've won it the last three years."
Judging by Saturday's performance against Breckenridge, however, Steamboat scooted its way in as partial favorites in the 10-team Cowpie Classic.
Steamboat scored early and often.
Within the first five minutes, Steamboat already had put up two quick tries. After Breckenridge scored on a penalty kick, Steamboat finished out the first half with three straight tries.
"We're getting there slowly," said Muir, who just moved out to Steamboat two weeks ago after coaching the Chicago Griffins to the Rugby Super League semi-finals. "We're shaping up."
The match was never in doubt in the second half after Steamboat scored three more tries within the first 10 minutes.
Breckenridge added two late tries as time was winding down, but Steamboat's lead - once at 54-10 - was too much to overcome.
Despite the win, Hurley admitted the team played a little "flat." Whether it was just looking past the Breckenridge team towards the Cowpie Classic, Hurley said Saturday shows why this Steamboat team is so hard to beat.
"In the past when we were flat we'd lose," Hurley said. "It's good to still get a win. We have too much talent to let a game get away from us."
Now, Hurley and the rest of the team can turn their full attention to the Cowpie Classic. With a week off to increase conditioning and heal up players - Steamboat was missing three starters on Saturday -Steamboat should have as good a chance at the Classic as any team.
"If we play to our abilities, there's no reason we can't make the finals," Hurley said. "Once you get into the finals, anything can happen."