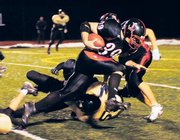 Steamboat Springs — It's definitely not doom and gloom with the Steamboat Springs High School football team.
Despite losing four all-league offensive lineman, a three-year starter at quarterback and an All-State linebacker and lineman, Steamboat coach Aaron Finch came away from a four-day team camp at Mesa State College in Grand Junction feeling better about the prospect of the 2007 football season.
"We're a much younger squad, but we saw continuous improvement every session," Finch said. "Kids really responded. There's a tremendous work ethic from this group. Individually, we really made a lot of progress and therefore, as a team, we made progress."
This is the third time Finch has taken a team to a summer camp. Last year, the Sailors went to Mesa State, and the year before, they went to a camp in Laramie, Wyo.
Finch, who has made the Class 4A playoffs two years running, said the camp in Grand Junction serves the team on several fronts.
Along with individual drills with the Mesa State coaching staff, the team was able to line up and play 11-on-11 football, in which the offense and defense each get 12 plays to run.
Among evaluating younger players, Finch said the coaching staff also was able to see a majority of league opponents.
Playoff qualifiers Moffat County, Palisade and Eagle Valley all were at the camp.
"During the course of the camp, we see everyone else," Finch said. "We're able to try a lot of different offenses and defenses and install a few things."
Areas of particular interest for Finch - and areas with the biggest question marks - were on the offensive line and at the quarterback position.
Despite losing four all-league linemen, the Sailors return two seniors with experience in Mac Marsh and Ahmad Akkad. Initially, Finch wasn't sure who would play on the line, he said. But after camp, he sees several young players who could make a difference.
"You start seeing enough athletes in certain areas," Finch said. "There's seven or eight offensive linemen contending for starting positions."
At quarterback, it's a battle between junior Alex Wood and sophomore Austin Hinder. Wood, who backed up last year's starter Tanner Stillwell, threw just seven passes last year, completing one for 20 yards.
Hinder led the junior varsity team last year.
"They got an equal amount of playing time at camp," Finch said, noting starting positions likely won't be decided until the end of two-a-days in August. "Rather than picking who we're going with, we like to get them a lot of opportunities to go against varsity competition."
One area the Sailors won't have to worry about will be on the outside. Steamboat returns defensive backs Houston Mader and Michael Stewart as well as outside linebackers Wood and Nigel Hammond.
The Sailors also return Division I caliber talent in running back and three-year starter Jay Hanley, who has rushed for 1,200 yards, and kicker Ben DeLine.
In the end, Finch said this team reminds him a little of the 2005 team that was overlooked and went on to make it to the state playoffs.
"You think about (the 2005) season and our hallmark was to come from behind and win games. Of the first six, we came from behind to win four," he said. "We have a very similar group of seniors. There's not a lot of talk - they just go out and perform.
"We have the talent to really perform well. I definitely feel like we have athletes to be a really strong team at the end of season. We just have to progress quick enough in the beginning season and win games."
Steamboat starts practice at 9 a.m. Aug. 13 at the high school.