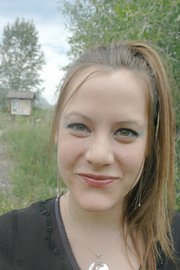 Steamboat Springs — Laura Gilligan
Age: 25
Occupation: Massage therapist
Place of birth: South Dakota
Q. When did you move to Routt County and what brought you here?
A. July 2005. My spirit brought me here because I needed to find a foundation to grow from.
Q. What's the biggest risk you've taken recently?
A. I squashed a wasp (Wednesday). I'm afraid of bugs that bite or sting.
Q. Describe your morning routine.
A. Kick around my sheets awhile, get up and open all the windows, turn on some nice tunes and tea kettle and clear my mind for the day.
Q. What's the best piece of advice you've ever been given?
A. Stop thinking, start living.
Q. What three things would you want people to know about you?
A. I wear my heart on my sleeve, true happiness is a peaceful mind and I'm not afraid of getting my hands dirty.
Q. What did you want to be when you grew up?
A. A belly dancer.
Q. If you could invite any four people to dinner, who would they be and what would you talk about?
A. My man, my mom, Thich Nhat Hahn and the Dalai Lama. Life.
Q. Do you collect anything?
A. Yes, mostly things found in nature like rocks, seashells and an occasional leaf or two around autumn.
Q. In the Meatloaf song, "I'll do anything for love, but I won't do that," what is that?
A. Coming from someone who told their fiance that she'd even move to Iowa : I'm not sure I relate to this Meatloaf guy.
Q. What was your first job?
A. Waitressing at a drive-in.
Q. Who is your favorite superhero? Why?
A. Mighty Mouse. He has the catchiest little entrance and his chest is sexy.
Q. Do you have a tattoo? If so, what of and why did you chose it?
A. Yes, a star. I like stars.
Q. Do you have any phobias?
A. Yes! Getting attacked by a bear or mountain lion.
Q. If you could go back in time, to what event or time period would you go?
A. Late 1960s or early 1970s. Woodstock.
Q. What is your favorite thing to do in Routt County?
A. Camping with my man.
Favorites
Book: My herbology reference book.
Song: "In a Mile" Citizen Cope
Color: Green
Food: Sushi
Sport to watch: Dance competition/ gymnastics/ swimming
Vacation spot: Bali
Recreational activity: Beachin' it
Movie: "Garden State"