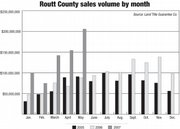 Steamboat Springs — The dollar volume of Routt County's real estate market continued to surge to unprecedented levels in May, when transactions totaled more than $205.5 million.
To put the number in perspective, no single month during the record $1.21 billion year of 2006 eclipsed $150 million.
"The total sales volume in all of Routt County this year through May 31 is already $676,557,000 million," said Bruce Carta of Land Title Guarantee Company in Steamboat Springs. "Last year at the same period, we were at $329 million (for the year). If we keep up this pace, we could be at $1.62 billion in total sales volume for the year."
The May numbers represent a 132 percent increase from May 2006, when dollar volume was $88.6 million (the Ski Time Square transaction closed in late April). But even when that number is subtracted from the total, it leaves $117 million in other transactions.
There were other large transactions that skewed average figures, but Carta said the numbers are revealing when you look only at residential transactions within Steamboat's mountain and downtown areas.
"There are so many variables to be considered," Carta said, "but the true picture is the prices have doubled in these areas."
Residential sales prices in Steamboat's downtown averaged $800,500 in May, up from $446,580 in May 2006. It was a similar picture at the base of Mount Werner, where last year's average residential sales price in May was $460,591. In May 2007, the average sales price at the mountain was $1.05 million.
May real estate closings represent contracts written earlier in the spring and in late winter.
Cam Boyd of Prudential Steamboat Realty said the unit volumes of both condominium and lot sales were up year from year in May. This year saw 72 condos close in May, compared to 44 in May 2006. Lot sales reached 42 this year, compared to 37 in May 2006.
There also are signs more high-end buyers are looking at Steamboat.
"We're seeing more upper-end customers," Boyd said. "They're expressing confidence that if they're going to buy in our market, it will turn out to be a good investment."
In May 2006, three homes sold for prices between $1 million and $1.5 million in Routt County. The number rose to 13 this May.
In the range from $1.5 million to $2 million, there were five sales last month. There were no sales recorded in that price range in May 2006.
So far this year, 75 homes priced at more than $1 million have been sold, and eight of them were priced at more than $3 million. Those eight homes together totaled $31.9 million, or 9 percent of gross dollar volume for the year thus far.