Customs Enforcement raids impact local businesses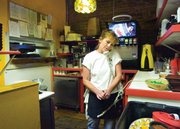 Steamboat Springs — News of Immigration and Customs Enforcement operations in the area late last week had an indirect effect on local businesses, from employees not showing up, to owners scrambling to catch up on paperwork.
ICE's three-day operation in Colorado and Wyoming led to 38 arrests, but only 5 occurred in Routt and Moffat counties, four of which were the result of a traffic stop in Hayden on Thursday.
"The reports of us going to hotels and construction sites in (Steamboat Springs) was inaccurate," Carl Rusnok, a regional spokesman for the federal immigration agency, said Friday.
Nonetheless, news of the raids had a ripple effect in Steamboat during the past few days. Kristi Brown, owner of Cantina and Mambo Italiano restaurants, said she and managers had to fill in for workers who didn't show up for work. Brown said all of her employees are documented, but that doesn't make dealing with ICE a pleasant experience.
"They just don't want to be hassled," Brown said. "The thing I compare it to is the IRS. Even if you pay your taxes, you still don't want to be audited."
Brown said the employee shortage didn't result in any loss of business.
"Everybody pitched in, and we were able to stay open," Brown said. "We've got a great team, and they definitely all proved it."
Rex Brice, owner of Mazzola's and Rex's American Grill restaurants, said he had heard rumors about ICE being in the area, but that it didn't result in any of his workers not showing up.
"I did hear that they came through town and, of course, it prompted us to make sure all our paperwork was in order," Brice said.
Brice said immigration officials are very strict and particular when it comes to employee documentation, so he was sure to catch up and make sure everyone was taken care of.
The general manager of a local landscaping firm said five of the business's workers did not show up Friday despite the fact they are working legally.
"I'd say it's unfortunate that businesses have to go through this when there's not proper paths to citizenship," said the manger, who wished to remain anonymous.
To make up for the shortage, the manager, owner and even some girlfriends picked up the slack.
"You do what you can," the general manager said.
Lisa Duran, executive director of Rights for All People, a division of the Colorado Immigrant Rights Coalition, said the hesitancy of even legal immigrant workers to show up for work speaks to the insensitivity of the ICE raids.
"A lot of immigrants report daily discrimination," Duran said. "When you have that kind of hesitance and throw a raid on top of it, the immigrant community, including legals, are feeling very intimidated. There's just a sense that they need to lay low."
In addition to a hesitancy to go to work, Duran said immigrants are attending church less and not going out as much since ICE started intensifying its efforts last year.
"You can't use something like raids to target one part of the community without affecting other parts," Duran said.
Nationwide in 2005, ICE had 18 Fugitive Operations Teams, which are charged with identifying, locating and arresting fugitive aliens. They now have 61 teams and hope for 75 by the end of the year.
ICE defends the teams and their tactics, hailing their success. The agency announced Wednesday it has reduced the backlog of open fugitive alien cases in the country for the first time in U.S. history.
- To reach Brandon Gee, call 871-4210
or e-mail bgee@steamboatpilot.com.