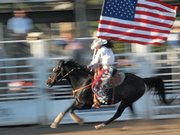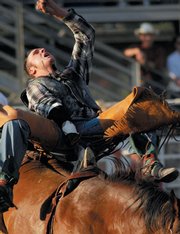 Steamboat Springs — For Todd McCaughey, Saturday night's Steamboat Springs Rodeo was just a step in the right direction.
McCaughey, a Larkspur resident, won the Saddle Bronc Riding portion of the rodeo with a score of 80, five points better than Monte Downare and Brandon Munn.
While the check was nice, and getting a win is always great, McCaughey said Saturday's performance puts him in line for the rodeo's most unique prize in bronc riding: the Pat Mantle Memorial.
At the end of the year, the top six bronc riders have a chance to compete against the top six broncs for $2,000 and a commemorative rifle.
While the prize may not be the biggest in bronc riding, it certainly may be the most well respected.
"There's the circuit finals and the national circuit finals, but the Pat Mantle is right there," said McCaughey, who won the event in 1999. "You always try to win that."
Saturday, McCaughey got off to a good start.
As the last one to go, McCaughey saw Downare and Munn put up 75's. McCaughey said when he saw the horse he drew, he knew he'd have a chance.
"I was excited," he said. "I've seen her a couple of times last year and she's a great horse."
After the bronc jutted out of the chute, it bucked and turned right on McCaughey.
"She exploded and then disappeared," he said. "I went at her and got back up though."
When his ride was done, he peered up at the scoreboard and saw he'd scored an 80 and a win.
McCaughey's been doing the Steamboat Rodeo for 13 years and saddle bronc riding for 16. He got into bronc riding while working on a ranch in Baggs, Wyo. Riders would be paid an extra $200 a month for riding colts. When his boss bought some broncs, McCaughey happened to be the one who was chosen to ride them.
"I was the test pilot," he said. "Now, 16 years later, here I am."
And now, McCaughey makes it a point to make it to the Steamboat Rodeo as much as possible.
When his job managing a ranch and taking care of 1,200 head of yearling doesn't interfere, McCaughey makes the three hour trip to Steamboat because of the crowd, the people and the competition.
"I try to come to the Steamboat rodeo every week," he said. "Coming to Steamboat's like a vacation."
For full results from Friday and Saturday's rodeo, see Monday's Steamboat Today.