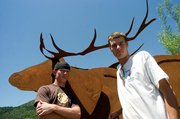 Steamboat Springs — The sheet-metal elk sculpture gracing the lawn of Ski Haus is for sale.
Two Hayden High School students built the elk in a welding class. Sam Kopsa and Chuck Hines, who are 17 and will be seniors this fall, have yet to decide on an asking price, but they hope the sculpture will fetch thousands of dollars and help each of them pay for college.
"We decided to put our artistic talents to the test with metal," Kopsa said.
The result is a large, rusted, red sculpture made from quarter-inch sheet metal and complete with antlers and various artistic designs. Kopsa said the sculpture easily weighs 1,000 pounds.
"Elk is a pretty common animal around here, so we figured it would probably sell," Kopsa said.
Kopsa and Hines said they cut the pieces for the sculpture from 4-by-8-foot sheets of metal using torches. They said creating the antlers was the hardest part, which involved heating and bending the metal.
Hines said they both take art classes, but this was the first time they made something artistic in welding class. Previous welding projects included snowboard rails and trailers, Hines said.
Kopsa and Hines plan to continue welding in the future. Whether they stick to the artistic side of the craft depends on how successful they are selling their elk, they said.
"It was great that they were able to take things they learned in their art classes and apply it to welding," said Kevin Kleck-ler, Hayden High School's welding instructor. "I'm proud of them for sticking with it and seeing it through."
The elk is on display at Ski Haus because Klecker is friends with owner Rod Schrage, who Kleckler said is a great supporter of Hayden's technical programs and students.
The sculpture isn't advertised as for sale at Ski Haus - Hines and Kopsa will be advertising it through ads - but they said the publicity helps.
"It gets a lot more exposure here than in Hayden," said Todd Fellows, a manger at Ski Haus. "It's my job to sell bikes, not elks, but I do like the way it looks out there. I think it looks robust. I wish I had a place for it."
- To reach Brandon Gee, call 871-4210
or e-mail bgee@steamboatpilot.com