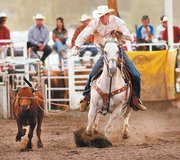 'The Dance'
Following Saturday night's rodeo, Kenny Fuller will host "The Dance" featuring DJ Danny Tebbenkamp. The dance is a chance for country western music fans to get together and dance following the rodeo.
There will be dances every Saturday night from June 23 to Aug. 18. The dances start at 9 p.m. and end at midnight. Fuller will set up a large dance floor in the middle of the arena, and Tebbenkamp will spin the latest country tunes. The bar stays open until midnight, and there are free hot dogs and a fire pit.
Fuller say donations are appreciated and help support the cost of putting on the dances.
"It was very successful last season and we want to build on that," Fuller said. "We would love to see this event become a part of the Steamboat Springs Pro Rodeo Series for years to come."
The rodeo is every Friday and Saturday night through Aug. 18. Special performances will be held at 7:30 p.m. July 3 and 7 p.m. July 4.
If you go
What: Steamboat Springs Pro Rodeo
When: 6 p.m. barbecue, 7:30 p.m. performance
Where: Brent Romick Rodeo Arena
Cost: Adults $14 at the gate, $13 in advance; children $7 at the gate, $6.50 in advance.
Steamboat Springs — The outcome of the first performance of the Steamboat Springs Pro Rodeo Series will remain uncertain until late Friday evening. But for local cowboys and cowgirls, opening night in Steamboat Springs is generally welcomed with a rush of emotions.
The first rodeo of the summer is scheduled to begin at 6 p.m. at the Brent Romick Rodeo Arena with a pre-rodeo barbecue. The official performance begins at 7:30 p.m.
"It depends on the cowboy or the cowgirls, but it's usually a big night for everyone," local cowboy Michael Sisk said about opening night of the summer-long Pro Rodeo Series. "Personally, I'm going to be pretty anxious because it's my first rodeo of the season."
When Sisk isn't working as an orthopedic surgeon at Yampa Valley Medical Center, he competes as a saddle bronc rider and also is a member of the Steamboat Springs Pro Rodeo Series board of directors. Tonight's rodeo promises more than a few anxious moments for the veteran cowboy.
"Until the gate opens, you never know what's going to happen," Sisk said. "I don't want any surprises on the opening night."
Like every other cowboy, Sisk hopes for big crowd, a smooth running rodeo and a rank bucking horse under him. If all goes well, the fans will leave happy and Sisk will leave Friday night's event in the money.
The week leading up to the first rodeo always is a busy one for Pro Rodeo Series board president John Shipley. He has to make sure everything is in place before the fans start looking for their seats.
"I think we will have everything ready to go by 7:29 p.m. Friday," Shipley said. "That's the reason we always start the first rodeo right on time. If we didn't, I would always be asking for a few more minutes to make sure everything was perfect."
Opening night is a kind of tradition for barrel racer Julie Haskins, who makes the trip from Maybell every week in the summer to be a part of the Steamboat series.
"It's about an hour-and-a-half drive, so there's no reason not to come," Haskins said. "A lot of people come to Steamboat because they like to eat out, go shopping and just enjoy Steamboat."
Del Lockhart, owner of F.M. Light & Sons, says ticket sales have been brisk this week. He says sales of western wear also have been strong and that the return of rodeo comes with a sense of excitement.
"We've always had a strong interest in rodeo - it's a part of this town's heritage," Lockhart said. "It's an important part of Steamboat Springs, and we are excited that it's back."