Allison Plean
Allison Plean's column appears Fridays in the 4 Points arts and entertainment section in the Steamboat Today. Contact her at 871-4204 or e-mail
aplean@steamboatpilot.com
.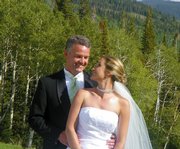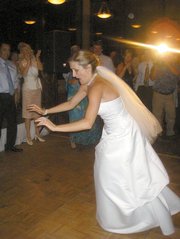 Mrs. Marchele McCarthy (formerly McEntee) did the worm in her wedding dress on Saturday.
For those not in the know, the worm is an intricate breakdancing move - circa 1980s - in which a person begins in a standing position, jumps to the floor and undulates like a worm propel themselves across the dance floor.
It is no easy feat for a girl in white satin with a 4-foot train.
But this was no ordinary wedding.
It involved an extraordinary couple who took a few daring ceremonial liberties, as did their wedding party. After groomsman Tim Condon escorted me down the aisle, we took three steps back, and then ran toward one another for a jumping belly slap in front of more than 200 guests.
It would have been wrong if we didn't.
This was a wedding for the girl who didn't believe in the institution of marriage.
Marchele McEntee insisted that no couple could promise to love each other forever. It's impossible, she said.
"How do you know how you will feel about someone in 50 years?"
We had this conversation a million times.
Then, Tim McCarthy came into the picture. He was her neighbor and friend for two years before they started dating. He is the one man she could promise to love forever.
Nine bridesmaids and 11 groomsmen later, the date was set and plans emerged. Modern weddings are all about rearranging customs and implanting new ones. Ceremonies are starting to take on the personality of the modern bride - sometimes with input from the groom.
Couples are deleting stale mantras to type up individualized vows and organize guest-oriented activities. This wedding involved a bachelor trip to Mexico and a weekend-long bachelorette party that spanned the Front Range and the Colorado Rockies. There were pre-wedding pontoon adventures, multiple wedding party spa days and post-wedding tubing after the traditional Sunday brunch.
After centuries of bad bridesmaid dresses and spending large sums of money on once-in-a-life-time garments, rehearsal dinners are now turning into quasi-concerts and are more focused on celebrating the love between the couple and the people they cherish in their life.
The night of the rehearsal dinner, Marchele's nine bridesmaids huddled around a picnic table and made a pact that we would get together at least once a year.
Marchele is welcome to join us, of course.
Never before have I built such a deep foundation of friendships in such an unusual way. My best friend's friends are amazing people because my best friend is an amazing person. Each bridesmaid embodies characteristics of Marchele that I fell in love with.
The night of the wedding, the dance floor more than tripled its capacity before the desserts were served. One of the groomsmen even had to tip off the band so they would play at least five more encores.
This type of wedding restores faith in the institution of marriage. It's about celebrating lifelong bonds that will perpetuate regardless of ceremony. And it proves how integral friends and kin are to the witnessing and nurturing of the love between a man and a woman who can do the worm in a wedding dress.