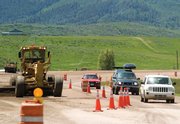 Steamboat Springs — Motorists traveling south from Steamboat Springs on Colorado Highway 131 may want to leave a few minutes early this summer.
Construction once again is under way on a 3.2-mile stretch of highway that begins near the Lake Catamount turnoff and continues to Routt County Road 14. Nancy Shanks of the Colorado Department of Transportation said the $5.6 million project should be completed by early August, which can't come soon enough for some area residents.
"Last year, traffic was a total zoo past here," said Maury Bunn, who lives off Routt County Road 14C, a few hundred yards away from the construction. "The road work has moved a little farther down the line, so people haven't been using our road as an alternate route as much," he said.
Throughout the duration of the project, motorists can expect single-lane, alternating traffic through the work zone from 7 a.m. to 7 p.m. Monday through Friday, with some weekend work possible.
Shanks said the scope of this month's work includes minor slope and shoulder maintenance as well as placement of an aggregate base course on Colo. 131 from Routt County Road 14E to the Yampa River bridge.
After the base course is placed, paving is scheduled to begin in early July. Seeding and mulching adjacent to the highway is to begin once asphalt paving has been completed.
Shanks noted CDOT doesn't typically designate alternate routes unless there is a road closure, but she stressed caution when traveling on county roads.
"If locals know about those alternate routes and choose to bypass the work, then do drive slowly and respect the residents on these unpaved roads," she said. "If you get stuck in line, it's only about a 10-minute delay. Leave a few minutes early."
The armada of vehicles past the Bunn residence may have subsided for now, but Bunn said he's worried motorists searching for detours around the construction will come back once the paving begins.
"It's only a 10-minute wait, and that shouldn't be much of a problem for most people," he said. "The (CDOT) people did a good job last year with traffic, and I just hope to God people can be patient."