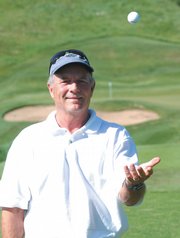 Steamboat Springs — Steve Green plays a lot of golf.
However, Green is quick to point out that it's not because he's a great golfer, but simply because he loves the game.
"It's great entertainment, but I'm rather ordinary in the scoring department," Green said.
But last Monday, the 14-handicap golfer joined a not-so-ordinary group of players in our town when he watched his tee shot on the No. 14 hole at Catamount Ranch & Club strike the green before rolling into the cup. It was the first time Green has aced a hole in nearly 50 years playing the game.
"I've been close several times, but I've never had a hole in one," he said. "I not sure if I was surprised, but it was pretty exciting."
The shot is the highlight of Green's golfing career, so far. It's a moment he plans on remembering for a long time, but admits he doesn't recall much about his round after the 14th hole Monday.
"It's all a blur," he said. "Once I hit that shot I was so excited that I couldn't remember much about the rest of the round. "
He used a 7-iron to make the shot and said the pin was set approximately 164 yards away. He was playing with a friend from Florida who just happens to be a golf professional.
"He hit his shot about 15 feet from the hole, so I was just hoping to get inside of that," Green said. "We watched the ball the whole way. It hit the green and rolled right into the hole."
Green, who owns and operates Steve Green Company in Steamboat, is a longtime resident and a member of the Catamount Ranch & Club.
Luke Brosterhous, an assistant professional at the private club, said Green's shot was the first hole-in-one of the season at that course.
The par-3 hole has been aced a couple of times in the past, but Brosterhous said it's not an easy shot.
"It takes a pretty good golf shot to get a hole-in-one on 14," the assistant said. "I'm not sure where the pin was, but the pin placement can make that a very challenging hole."