Rentals spark passion
Vacation home policy moves forward; potential final reading July 3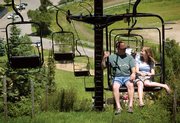 Steamboat Springs — Numerous members of the public spoke passionately Tuesday night about how to regulate vacation home rentals in Steamboat Springs.
The Steamboat Springs City Council voted 7-0 to approve a first reading of its revised vacation home rental ordinance, moving the process forward to a potentially final reading July 3. But it may take longer than that to finalize the ordinance, which is at the center of revived debate about a tourism-related industry that, for years, has fueled clashes between homeowners and property managers. Vacation home rentals are homes in residential neighborhoods that are rented to short-term vacationers and sometimes used for private functions.
Councilman Towny Anderson said Tuesday that the revised vacation home rental ordinance, intended to clarify regulations set in 2001, potentially allows duplexes to operate as "small hotels without the building permits and code enforcements."
"I heard comments tonight that we're putting homes out of business," Anderson said. "But how do you put a home out of business?"
The answer, voiced by at least eight vacation home renters in Centennial Hall, is by over-regulating the home rental industry.
Michael Powers told the City Council that for his three-story vacation home on Ski Trail Lane, the revised ordinance would require 10 parking spots - a regulation Powers described as "a wrecking ball to a fly swatter approach."
Suzanne Spiro of Colorado Mountain Rentals asked the City Council to remove several regulations, such as parking requirements and occupancy caps, from the ordinance. At one point, Spiro criticized council members for "your own admission that you have no idea how to run our business."
Shortly after that comment, City Councilman Ken Brenner reminded speakers to maintain decorum and limit their remarks to the three-minute time limit. City Council President Susan Dellinger constantly reminded speakers to avoid repetitive arguments and stick to the ordinance itself, which city attorney Tony Lettunich and planning director Tom Leeson will revise before July 3.
"I think that no matter what, this will be a very difficult ordinance to enforce - period," Leeson said. "But I think the language is clearer."
Longtime Steamboat resident Rick Bettger, who owns a vacation rental in Old Town, said he is tiring of the entire debate.
"This is the thirteenth time I've come to City Council on this item since 2001," Bettger said. "I feel like a whipped dog."
Also Tuesday, the City Council changed a policy in its newly approved inclusionary zoning and linkage ordinance, which regulates how the city provides affordable housing. The council voted, 5-2, to allow developers to pay the city a fee instead of providing required affordable housing - a policy known as "fee-in-lieu" - only in specific sections of zoning districts at the base of Steamboat Ski Area. Throughout the rest of the city, fee-in-lieu payments are now prohibited.
Council members Paul Strong and Loui Antonucci voted against the new fee-in-lieu policy, which changes a City Council vote earlier this month to allow fee-in-lieu payments for projects in all of Steamboat.
- To reach Mike Lawrence, call 871-4203
or e-mail mlawrence@steamboatpilot.com