Mike Lawrence
Call Mike Lawrence at 871-4203 or e-mail
mlawrence@steamboatpilot.com
.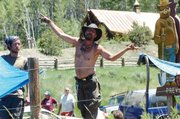 Steamboat Springs — The hippies are heading south.
That's right, folks, pack up your Volkswagen buses and leave the deodorant behind - the 2007 gathering of the Rainbow Family of Living Light is under way, setting up camp in a secluded region of the Ozark National Forest in Newton County, Ark.
Remember the Rainbows? Sure you do.
Last summer, the annual counterculture festival brought more than 15,000 people to Big Red Park in North Routt County for an event that began in mid-June and culminated July 4. In a three-week span, the Rainbow Gathering spawned both a massive prayer circle and a multi-agency Incident Management Team. It incited a minor outbreak of canine parvovirus but, thankfully, no wildfires. It spurred largely unsubstantiated reports of Rainbows throwing rocks and sticks at law enforcement officers, along with equally unsubstantiated reports of officers physically harassing Rainbows.
The gathering featured eclectic performances, people of all ages and backgrounds and communal kitchens serving meals around the clock. There was no evidence of hazardous waste, according to county officials, and no drastic effect on tourism.
Colorado State Patrol troopers made at least 673 vehicle stops related to the Rainbow Gathering. U.S. Forest Service law enforcement officers issued at least 584 violation notices to Rainbow participants.
And, of course, there was the Sweet Pea incident, a Dumpster-diving debacle involving two straggling Rainbow-goers who chose the wrong place to forage for vegetables. Routt County Sheriff Gary Wall cited perceived injustices of the incident in his successful campaign for office.
One year ago, the Rainbow Gathering sparked weeks of local brouhaha that impacted the entire county and filled the pages of this newspaper.
I couldn't help but call northwest Arkansas on Tuesday.
Most of the people I spoke with hadn't yet heard of the Rainbow Family or of the event brewing in their backyard.
"I haven't the slightest idea of what that is," said a woman at the Johnson County Graphic, a weekly newspaper near the site.
"I haven't heard about it," said a woman at the Clarksville Chamber of Commerce.
"I haven't seen anything about it," echoed George Arnold of the Arkansas Democrat-Gazette.
Finally, I struck gold at the Newton County Chamber of Commerce.
"So that's what's been going on," drawled Deputy Clerk Beverly, a charming woman who declined to give her last name but said she had heard about people piling into the Ozarks "near Piney Creek, Dixson Ridge and Cave Mountain."
"I didn't know what they were called," Beverly said. "But I heard there's going to be at least 5,000 of them. : The sheriff's office said there are a lot of people over there."
Yes, Beverly told me, the Newton County Sheriff's Office is already on the job.
"They've had people over there watching them both night and day," she said. "I told my mom and dad to lock their doors - they don't live close to that area, but you never know."
Routt County and local Forest Service officials said Tuesday that plans to conduct a one-year environmental assessment of Big Red Park still are being clarified.
Forest Service spokeswoman Diann Ritschard laughed when saying that, no, she's not planning to hop in a van and head down to the Ozarks for this year's gathering.
"Once was enough for me," Ritschard said.