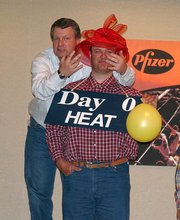 Steamboat Springs — Getting transformed into a cow in heat was not on the printed agenda for this year's Colorado Cattlemen's Association convention, but that's exactly what happened to cattle producer David Mendenhall on Tuesday.
Mendenhall, of Rocky Ford, was "Day 0" in the estrous cycle of a cow. He was one of five audience members chosen to take part in a demonstration by Virginia Tech Department of Animal and Poultry Sciences Professor W.E. "Bill" Beal.
Beal used the same technique to teach Colorado cattle producers about the reproductive physiology of beef cattle that he uses with his undergraduate students.
"This is where the bull would breed," Beal said while climbing on Mendenhall's back. The joke brought a roar of laughter from the audience gathered in a meeting room at the Sheraton Steamboat Resort Hotel. "We're not going to demonstrate that."
Beal was one of several speakers at the 140th annual Cattlemen's Convention, which runs through today in Steamboat and Hayden. The nonprofit trade organization is the nation's oldest state cattlemen's association. The Colorado CattleWomen and the Junior Colorado Cattlemen's Association also are holding their annual conferences in Routt County this week.
"We come together to discuss policy, to get some education and have some fun," Colorado Cattlemen's Association President Mark Roeber said. "This has been one of our best conventions in a long time."
The location for the conference rotates throughout Colorado, and more than 400 people attended this year's gathering, Roeber said.
While Beal kept the crowd entertained, there were more serious discussions about issues and policies that affect the future of the cattle industry.
National Cattlemen's Beef Association Region Five Vice President Cevin Jones was the guest speaker at Monday's lunch.
Roeber said he discussed a new national farm bill being drafted by lawmakers. The farm bill and energy-related topics are some of the bigger issues on the minds of cattle industry officials.
Ethanol, for example, is driving up the demand and price of corn across the country.
"The cost of feed
will probably go up," Roeber said.
Hovering around $4 a bushel, corn is at its highest price in about a decade. Despite that threat and a severe winter this past year on Colorado's eastern plains, the cattle industry is healthy, Roeber said.
"Overall, the demand for beef has been up and the prices have held up, and I personally feel like there still is a future in animal agriculture in this state," he said.
After a steak lunch at the Sheraton on Tuesday, conference attendees headed west to the Routt County Fairgrounds in Hayden for heifer evaluation and rangeland monitoring workshops. A social and the Wing Ding BBQ were held after the workshops.
There also was entertainment from the Yampa Valley Boys and cowgirl poet Peggy Godfrey.
The conference concl-udes today at the Sheraton with business meetings and awards.
- To reach Matt Stensland, call 871-4247
or e-mail adelacruz@steamboatpilot.com