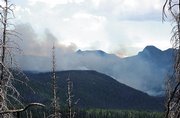 Tom Ross
Tom Ross' column appears in Steamboat Today. Contact him at 970-871-4205 or tross@SteamboatToday.com.
Find more columns by Tom here.
Steamboat Springs — If you hike up the North Lake Trail toward Wolverine Basin this month, keep your head on a swivel. You never know when a tree might fall across the trail.
We didn't actually see or hear a tree fall in the forest, but we're fairly certain it happened. Hiking back to the vehicle early Sunday evening, we came upon a fresh lodgepole pine in our path that we couldn't recall being there on the hike up.
The young tree, no more than 5 inches in diameter, was one of many that we climbed over or stooped to go under. Its needles were as fresh and green as if it had been standing an hour earlier.
It seems highly ironic that in a forest of dead and dying trees, healthy trees are blowing down. But that's the way it's going to be in the conifer forest of the Mount Zirkel Wilderness for years to come.
Routt National Forest spokeswoman Diann Ritschard explained to me that in a forest thinned by beetle infestations and wildfire, even healthy trees are more vulnerable. Increased runoff from melting snow and thunderstorms undermines a tree's root systems. And they must weather greater exposure to wind gusts.
It has been a decade or more since I hiked into Wolverine Basin and visited the trio of Wolverine, Ptarmigan and Pristine lakes - even longer since I joined a commercial llama trip to North Lake and used it as a base for a hike up Lost Ranger Peak.
So I was relatively unprepared when we suddenly began to see a handful of burned trees about a mile and a half into the hike.
Up to that point, we had made good use of fallen timber to cross the thundering creek that is a tributary of the South Fork of the Elk River. Several massive tree trunks had fallen across the creek in just the right place to bridge the dangerous whitewater. It was as if someone had planned the deadfalls - but the shattered tree trunks confirmed that the bridges over the stream were the work of the wind.
As we climbed higher into the drainage, we found ourselves surrounded by blackened trees that trembled slightly in the breeze produced by an advancing weather front. It was enough to quicken our step. Still, we had time to notice that green grass and plants were popping out of the forest floor where the wildfire had swept through.
Everyone who lived here at the time recalls the Burn Ridge and Hinman fires that burned a combined 30,000 acres not far away in 2002. But we were walking through the aftermath of a more recent fire - Ritschard said the Wolverine Fire was ignited by lightning in the summer of 2005 and was allowed to burn about 460 acres.
The fire was allowed to burn unchecked because it was serving the purpose of clearing out unwanted fuels on the forest floor.
Smaller fires like the Wolverine helped to restore the "mosaic pattern" that historically has been an attribute of a healthy forest. Fires have served to create an irregular pattern of timber stands of varying ages and composition.
As we continued to hike, we saw tantalizing glimpses of snowy Dome Peak at 11,739 feet. On a ridge to our north, we could see the rusty color of evergreens killed by beetles. And on the valley floor, there was ample evidence of the Routt Divide Blowdown of 1997. The microburst produced winds in excess of 100 miles an hour and leveled thousands of acres of trees, kicking off this new era in the history of the forest.
My hiking companion made an interesting observation: "The blowdown was like a slow-moving forest fire," he said.
If you hike the North Lake Trail this summer (and I can't quite recommend it), you don't want to be slow moving. Better to be light on your feet in case the wind brings down another snag.