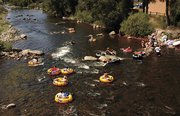 Steamboat Springs — John Kole of One Stop Ski Shop hasn't yet sent any commercial tubing customers out to float the Yampa River, but he did take a patriotic test ride over the weekend.
"It wasn't as cold as I expected," Kole reported.
He floated in a colorful new stars and stripes-themed inner tube that he's adding to the armada that will float the river from the Fifth Street Bridge to the James Brown Soul Center of the Universe Bridge this summer.
The commercial tubing season got under way Sunday as Peter Van De Carr and his staff at Backdoor Sports sent the first 25 paying tubers of the summer down the Yampa.
June 17 marked an early start to the tubing season - Steamboat commercial operators don't begin renting tubes until the river flow dips below 500 cubic feet per second.
According to a streamflow measurement gauge maintained by the U.S. Geological Survey, the Yampa was flowing at 474 cfs at midday Monday. That's about 1,000 cfs below the median flow for this date based on 97 years of record.
The early start could be a mixed blessing for Steamboat's tube operators - it could signal an early end to the season. The relative water abundance of 2006 allowed the rental fleet to float the Yampa into September. The town stretch of the Yampa was still flowing above 100 cfs on Sept. 2, 2006.
The city permits 433 commercial tube trips daily Monday through Thursday, 500 on Fridays and 915 on weekends.
Van De Carr manages permits belonging to his own business as well as those originally granted to Lockhart's and Rubber Rentals, neither of which is still in business.
Van De Carr said Backdoor's permit only saw 360 tubers in June, 3,400 in July, 1,900 in August and 330 in September.
Despite the relatively low streamflow for this early in the season, he expects a good summer.
"My outlook is pretty optimistic," Van De Carr said. "It doesn't feel anywhere near a drought based on the look of the valley and the hay fields. When you compare this to a drought, in particular 2002, this is really different."