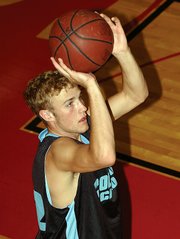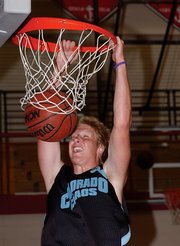 Steamboat Springs — In the landscape of elite summer basketball games and camps, where players often would rather chew glass than pass, Steamboat Springs seniors-to-be Michael Vandahl and Aaron Calkins don't waver.
It's not about who shoots. It's not about if they always play.
In the end, much like the upcoming high school basketball season, the only thing that matters is winning.
"As long as you win, you go deep," said Vandahl, who along with Calkins is playing on the 17s White Colorado Chaos Amateur Athletic Union basketball team this summer. "As long as we're winning, we get more exposure."
Exposure is the key word. In the ever-beckoning world of collegiate sports - especially basketball - getting exposure on summer circuits and playing on elite teams may be as important as playing well during the season.
"Every year, it gets more and more important to play in the summer," said David Matthews, president and founder of the Colorado Chaos Basketball Club, the premier AAU program in the Rocky Mountain region. "Especially for a kid from Steamboat Springs. It's hard for a college coach to watch a Steamboat kid in the winter.
"The summer is getting increasingly important. It won't make them or break them, but we try to expose them to as many coaches as possible. But they have to do well."
In its eight-year history, the Colorado Chaos AAU program has produced more than 120 college basketball players.
Playing on what's considered the second best AAU team for 17-year-olds in the region, Vandahl and Calkins are preparing for a summer basketball schedule that looks more like a full-time job than a hobby.
Having already played 22 games at tournaments across the Front Range, the White team is preparing to travel to Texas, Las Vegas and Los Angeles for summer tournaments. Add to that summer camps and scrimmages with the high school basketball team, and both estimate they dedicate 20 hours a week to basketball.
And that's during an off week.
"It's our life," Calkins said.
Up to now, the 17s White team - for which Vandahl and Calkins start - is 18-4 with a victory over the 17s Blue team, considered the top AAU team in Colorado.
The competition is better than what Vandahl and Calkins encounter during the high school season, and both said the experience is proving to be invaluable. From the recognition to the higher level of competition, the AAU team has helped both with their games.
"Coaches aren't just looking for scoring," said Calkins, who averaged 20 points, eight rebounds and three assists a game during his junior season for the Sailors. "They want to see you pass and see the floor."
Although Calkins - a second-team All-State selection and Western Slope League Player of the Year - had been on the Chaos' radar for a while, Matthews, who helps select the teams, said Vandahl was a bit of a mystery.
Calkins played in the Colorado Fall Shootout - a Chaos-run event - and earned the Top Junior award at the tournament. After the six-game tournament, Calkins was invited to play with the Chaos.
During the Fall Shootout, Vandahl was recovering from a knee injury. Matthews said he saw Vandahl play against D'Evelyn in last year's playoff game and figured he'd give him an invite.
"They had really good springs for us," said Matthews, who thinks both should earn college scholarships. "We knew how good Aaron was, but I didn't know that much about Michael. Out of all the kids this summer, though, Michael's been the biggest surprise."
With the Texas, Las Vegas and Los Angeles tournaments in July drawing the who's who of college basketball coaches and recruiters, Vandahl and Calkins - who've played with or against each other since sixth grade - are looking to parlay their successful summer seasons into something bigger.
"This," Calkins said, "might pay for college."