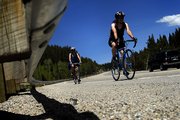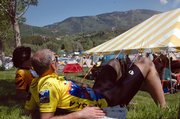 Steamboat Springs — Heavy headwinds and heat made for tough riding over Rabbit Ears Pass on Sunday, but Buzz Scher said he was more than happy with the first leg of this year's Ride the Rockies bicycle tour.
"That's a nice pass to come down," the 52-year-old resident of Anchorage, Alaska, said while relaxing in Steamboat Springs after a 99-mile pedal from Frisco. "This is a beautiful place."
Sitting in shade with fellow riders Thede Tobish of Anchorage and Phil Emrie of Golden, Scher said Alaska doesn't have anything like Ride the Rockies, a weeklong, 422-mile event that brought more than 2,000 cyclists to Steamboat on Sunday and turned lawns around Steamboat Springs High School into a scene reminiscent of a rock concert.
Upon arriving in Steamboat, hordes of tired but exuberant bike-riders set up camp at the high school, creating a cornucopia of colorful tents, exhibits and cycling camaraderie that included displays from gear vendors, food such as smoothies and chicken wraps, a massage area, piles of freighted luggage and even a woman selling "hypnosis CDs" out of a truck.
"It's fun to go on an organized ride," Scher said. "Things are generally taken care of, and there are festive events in the evenings."
Many participants in the bike tour spent time strolling through downtown and along the Yampa River or enjoying free concerts at Little Toots Park.
School counselor Judy Lokey of Montrose, 62, said this year's event - the 22nd annual Ride the Rockies tour - is her sixth or seventh since 1999. After poking through a luggage pile for her wheeled bag, Lokey said the bike tours are "just a kick" that allow her to stay in shape and meet people who share a passion for cycling.
"Except for the headwind on Rabbit Ears, the weather was gorgeous," Lokey said of her cycle from Frisco.
Jim Wall of Salt Lake City said he pedaled about 105 miles in just more than six hours and 20 minutes Sunday. Wall, a newspaper publisher, praised the work of Ride the Rockies staff.
"They take care of their riders very well," said Wall, adding he also got a taste of the wind at higher elevations.
"It sort of blew you around a bit," he said.
Sunday's event was not without mishap and possible tragedy.
Steamboat Springs police responded to a report of theft at the high school Sunday afternoon. And just after 4:15 p.m., several law enforcement and medical personnel responded to an accident scene on Rabbit Ears Pass. Initial reports said a male cyclist was struck by a vehicle, but was conscious and breathing after the accident. The cyclist was taken to Yampa Valley Medical Center.
Details on the theft and the accident were unclear as of Sunday evening, as officials with Steamboat Springs Fire Rescue and the Colorado State Patrol could not be reached.
After riders leave Steamboat today, they will visit Craig, Rifle, Glenwood Springs, Aspen and Leadville before returning to Frisco on Saturday.
George Krawzoff, the city's transportation director and a participant in the bike tour, said local drivers should expect a constant stream of bikers on U.S. Highway 40 throughout today.
Colorado State Patrol troopers will accompany the riders to Craig.
- To reach Mike Lawrence, call 871-4203
or e-mail mlawrence@steamboatpilot.com