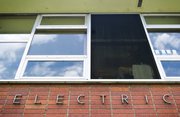 Steamboat Springs — Yampa Valley Electric Association board member Pat McClelland began the job six years ago, and he is determined to finish it.
McClelland, the incumbent, defeated Steamboat Springs resident Susan Holland by a 1,352-916 vote Saturday for the District 7 seat representing Steamboat Springs on the YVEA's board of directors.
"In the last two to three years, I have truly come to understand this business and the true direction a fine co-op such as (YVEA) needs," McClelland said. "I was brought up to finish something you started, and I don't think I've finished the job yet."
Incumbents Sam Halsem, representing the District 5 Hayden seat, and Dean Brosious, representing the District 4 Craig seat, ran uncontested and were re-elected to three-year terms.
The results of the election were announced to about 60 people who attended YVEA's 67th annual meeting at Hayden High School on Saturday. YVEA is a nonprofit, member-owned company that serves about 25,000 electric customers in Routt and Moffat counties.
During the two-hour-long meeting, Lawrence Covillo, YVEA's general manager, said the co-op's future is looking brighter by the day after experiencing a 2.7 percent increase in membership in 2006.
"We expect to see more and more people moving into our part of the world - God's country, a lot of people call it," he said.
Covillo said YVEA hasn't increased rates during the past year, and he doesn't expect them to increase through the remainder of 2007. Rates have increased only about $1 since 1994, he added.
About $1.6 million was refunded to YVEA members in 2006 because of the company's "positive financial status," he said.
"My responsibility is to continue keeping rates low by watching expenses and dealing with Xcel (Energy) the best I can," he said.
Board chairman Pud Stetson had a similar message for YVEA's members.
"2006 was a good year for YVEA," he said. "Despite the growth, we still have some of the lowest electric costs in the state of Colorado."
Covillo encouraged members to keep those costs low by using energy-saving compact fluorescent light bulbs.
YVEA officials have offered a free compact fluorescent light bulb to all of its members, although only about 2,500 people have come in to pick one up.
"Unfortunately, energy conservation methods have not taken hold," he said. "Using these light bulbs does not require a lifestyle change. It's low-hanging fruit ripe for the picking."
YVEA is continuing to provide wind and hydro power for its members and is looking to utilize more renewable, green energy supplies in the future to reduce environmental damage.
"It's an exciting time," he said.