What would Tiger shoot?
The professionals' answer: It's low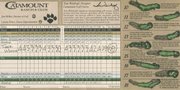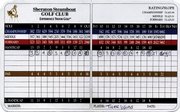 Steamboat Springs — He's easily the best in the world.
He's arguably the best, ever.
And there hasn't been a golf course - despite the best efforts to Tiger-proof them - in the world that's given him too much trouble.
He's torn up Augusta, made St. Andrews look like a putt-putt course and dominated Pebble Beach.
But what would happen if Woods took a four-day trek through the Yampa Valley and played our four 18-hole championship courses?
How would he handle Catamount Ranch and Club's par 4 No. 16 with out of bounds on the left, a sloped fairway and a green described as a jail?
Or Haymaker's own little version of 'Amen Corner' - holes 14, 15 and 16 - where pristine tee shots and course knowledge pay?
Perhaps he'd struggle with the greens at the Sheraton Steamboat Golf Club, where Director of Golf Brian Thorne admits he still hasn't figured them out after two years.
Or possibly - just possibly - he'd struggle with the undulating and postage-stamp-size greens at the Yampa Valley Golf Course in Craig.
Nah. Tiger would go low. Like four course records low.
Catamount Ranch and Club
With Woods' distance off the tee, touch around the greens and putting ability, Jim Miller, Catamount's director of golf, said Tiger wouldn't have any problems with the 7,056-yard, par 71 mountain course.
On every par 4 on the course, Woods would have to hit nothing less than a low iron or wedge to get onto the green, Miller said.
On the par 5s, well, Tiger would be putting for eagle on every one of them.
"His normal drive up here, even hitting it off the toe, would be 320 or 330 (yards)," Miller said.
Miller gave Woods a 30 on the front nine with birdies at holes two, three, five, six and nine.
After four straight birdies on holes 10, 11, 12 and 13, Miller has Tiger struggling on 14 with a par. Three more birdies in the past four holes puts him out in 29.
That's a 59 - and a course record. It's six shots better than previous course record-holder Sean McCarty's 65.
"I'd love to see it," Miller said. "The funny thing is, we gave him one birdie on the par 3s, and he didn't make any eagles. That's playing it pretty conservatively, and he still shot 59."
While Miller gave Woods a 59, he said there is potential trouble for the 30-year-old on holes 15 and 16.
"If you haven't played them before," he said, "they can give you some trouble."
But does the Tom Weiskopf-designed course fit another pro's game better?
No.
"He's by far the best," Miller said.
Haymaker Golf Course
Woods has won three British Opens on links-style courses. Haymaker is a links course with deception accompanying most drives, club-bending rough and wind - when it's there - that makes the course downright challenging.
That said, Haymaker Director of Golf Hank Franks sees little trouble for Tiger.
"He's so good he could probably just hit the range and putt a little," Franks said about Woods' preparation. "He doesn't need much information about a course. He calibrates and reacts better than anyone that's ever played the game."
Franks sees Woods making birdie on three of the first five holes before coming to hole six - a gargantuan 636-yard par 5.
Could Woods hit it in two?
"Yeah, probably," Franks said.
Still, Franks gave Tiger a par at No. 6 after his 'stinger' 3-wood ran just wide of the green.
"After that, though, he'd be mad," Franks said.
Which explains Woods' birdies on holes 7 and 8 and eagle on No. 9 for a front-nine score of 29.
On the back nine, where knowledge of the course really pays dividends, Franks sees Woods playing the first four holes at two under par.
Then, in possibly the toughest stretch at Haymaker - holes 14, 15 and 16 - Franks has Woods at even par with a birdie on 14 and - gasp - a bogey on 16.
"That's his first bogey," Franks said. "He hits driver through the fairway and into the creek."
A birdie on 18 and Franks has Woods with a 33 on the back nine for a total score of 62, three shots better than the course record from the championship tees set by Zach Zaremba.
"Sixty-two is his number here," Franks said. "That's even giving him a bogey."
Sheraton Steamboat Golf Club
At the Sheraton Steamboat Golf Club, if Tiger was to shoot the course record, he'd topple another legend of the game.
Eight-time major winner Tom Watson holds the course record with a 63.
While the other two Steamboat Springs courses play more than 7,000 yards from the championship tees, the Sheraton plays just less than 6,900 yards.
"He'd have no problem with the length," Thorne said. "But there's subtle breaks in the greens with valley effects in them. They're designed so you don't see them."
That said, Thorne doesn't envision Woods having much trouble with the layout of the course.
Like the others, it would be wedges into par 4s and eagle putts on par 5s.
After birdying three of his first four at the Sheraton, Thorne has Tiger registering pars at holes 5 and 6.
"Those are tough holes," Thorne said. "They have elevation changes and 90-degree turns. It takes driver out of his hands."
Still, Thorne has Woods finishing the final three holes at four under par for a front-nine 30.
Then the fun begins.
"The one thing that makes the back nine for him is there's three par 5s," Thorne said. "He wouldn't have trouble getting to them."
After starting out with an eagle on the 542-yard No. 10, Thorne has Woods birdying five of the next seven holes before finishing with a driver, 8-iron, one-putt eagle on No. 18.
Couple Woods' 30 on the front with his 27 on the back, and it's an eye-popping 57.
"That's his absolute best," Thorne said. "If he knew the greens, 57 wouldn't be crazy."
Yampa Valley Golf Course
With the easiest rating and slope of the four courses, it'd be easy to assume this is where Tiger would go the lowest.
Not so fast.
"The greens could give him some fits," Yampa Valley Golf Course golf pro Brett Etzler said.
Not early on, however.
Etzler carded Woods with birdies on four of the first six holes. With pars on the tricky seventh and ninth holes, Etzler has Woods with a 31 on the front.
On the backside, however, is where Etzler sees Woods having some trouble with the greens.
After birdies on holes 10 and 11, Etzler has Woods carding par on four of the next five holes.
"The good thing about our course is with the small greens you could tuck the pin placements in some tough places," Etzler said.
With Woods on the verge on not breaking Jeff Franks' course record of 64, Etzler said Tiger would do what he does best on the 591-yard, par 5, No. 18.
A driver and two-iron later, Woods would can a 10-footer for eagle, mark 33 on the backside and 63 overall.
"He'd pretty much drive all the par 4s," Etzler said. "All the par 5s, he'd have shots at eagle. So if we didn't have a chance to speed up the greens or tuck the pins, there's no doubt he'd shoot under 60."
Variables
Based on these projections, Woods played his four-day Yampa Valley excursion at 46 under par.
It doesn't mean these four courses are that much easier than say, Oakmont, where the winner of the U.S. Open will play four days and win with a score likely above par.
Give all four courses time to grow the rough, roll the greens and put out some killer pin placements, and Woods most likely won't shoot four course records.
"I wouldn't let him break 60 out here," Etzler said. "I'd go set the pins myself."
Franks estimates rolling the greens alone would add four to six shots. Miller said the same thing.
"If he came the first Saturday in July, he'd shoot 59 with no problem at all," Miller said. "But like they made Oakmont tough, any golf course can do that."
But does that mean any of the four could Tiger-proof the course, so someone else would have a chance?
No way.
"My money would be on Tiger every day of every week of every month," Miller said. "There's no one better that combines the athleticism of Tiger with the God-given ability and mental game.
"He's really that much better than everyone else."