Steamboat Rugby improves to 3-0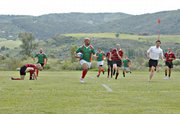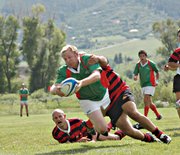 Steamboat Springs — Vindication. Redemption. Revival.
All three could be used to describe the resurgence of Steamboat Rugby.
But maybe the best - and most accurate - happens to be these guys are just good.
A week after downing rival Vail, Steamboat did something on Saturday that hasn't been done since 1978.
They not only beat Aspen, they thoroughly dominated them.
"This is my sixth year in the program and I've taken a pounding from those guys. I've been beaten by 60 or 70 points by them," said Steamboat captain JoJo Bucci after Steamboat dismantled Aspen, 27-0. "It's good to come back and beat them. It shows where the program is going."
Steamboat (3-0) started the scoring just a minute into the first half when Justin Wootion made a try. Minutes later, Shane Dooley scored another try for Steamboat.
"It shows the effect of these guys training, especially the guys that have been here year round," Bucci said. "It's easy to fly in here for three months, but the guys who've lived here long term got the program to where it is."
In the second half, Steamboat added a penalty kick and another try before Jimmy Rapanui scored another try to put Steamboat up, 27-0.
"That's a good team," Aspen captain Simon Dogbe said. "They're getting better and better every year."
Aspen, who came into the game with only 14 players, could never amount any offense, having its only decent chance at a try rubbed out because of a penalty.
Dogbe said the team's battling injuries and should be a lot better when they get several of their key players back.
"In another few weeks," he said, "we'll be a lot stronger."
Steamboat captains Bucci and Michael Hurley agreed the Aspen and Vail teams they'll see in a month will be a lot different than the past two weeks.
But with an influx of talent and coach Graham Muir - who helped coach the Chicago Griffins to the Rugby Super League semifinals -Steamboat had decidedly declared the team is the best on the Western Slope.
"We were the best team of the day," Bucci said. "A lot of these mountain teams will get better, but right now, we're intending to remain the best. We're going to go on about our business and win games."
Steamboat next plays Breckenridge at 4 p.m. Saturday at Whistler Park.