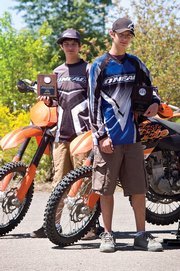 Richard and Carmen Strait kept their 14-year-old identical sons Ben and David from riding competitive motocross as long as possible, but they couldn't hold them off forever.
"They're the poster boys for 'I want to ride,'" Carmen said Wednesday. "They love it. They were born to ride."
The boys, already taller than both their parents, will be freshmen at Soroco High School in the fall, and they've already made quite a name for themselves.
Ben recently took second place in the novice group at the Valley Dirt Riders 2006-07 Winter Hare Scramble racing series in Berthoud. David took fifth. It was the boys' first competitive race.
"This was the first time we were devoted and went for points," David said. "It gets really hard; you get tired."
"They did really well, especially when you consider they were racing with 120 other people, some of them grown men," Carmen said. "They presented themselves honorably in a very tough crowd."
Despite being natural competitors, the boys aren't competitive with one another.
"Sometimes I have to pass my brother - that's hard to do," Ben said. "We do everything together. We practice together. And we're always pushing each other, like, if one of us does a jump then the other one has to do it, too."
Carmen said her sons almost always come in just seconds behind one another.
"It's so funny because they're always second and third, or fourth and fifth or third and fourth," she said. "They push each other."
The Straits are the epitome of a racing family. Everyone races, including the boys' older sisters, Beth, 16, and Emily, 18.
"We do it as a family," Richard said. "We always have."
"Except for me," Carmen added. "I'm the pit mom and the girls have taken turns being the pit sisters. We're the cheerleaders."
Ben and David began riding bikes at age 4, primarily on trails around their home in Stagecoach and in Burns, Moab and Sandwash Basin. The boys recently purchased their own 2007 KTM 250SXF bikes, but are mostly sponsored by Team Mom and Dad, they said.
"I specifically had a plan with these two," Richard said. "I gave them a little taste of (trail racing) when they were 9 or 11, but we mostly kept it to the trails so they'd develop a specific set of skills. You need to be in tune with that bike to make it go where you want it to go."
The boys said their motto is "Keep it on two wheels."
"We haven't broken any bones yet," Ben said. "There's been a lot of bruises though, some bleeding."
In addition to motocross, the boys plan to play basketball, wrestling, football and track during the course of the next year.
"We just do it," Ben said.
- To reach Alexis DeLaCruz, call 871-4234
or e-mail adelacruz@steamboatpilot.com