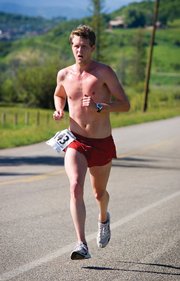 Steamboat Springs — Derek Leidigh did his homework before Saturday morning's Hot Springs Short Cut Run. The local runner knew the best place to make up ground in the Steamboat Springs Running Series' seven-mile race - the only race without a set course - would be at the start. Leidigh wove through city streets from the starting line at the downtown post office to Routt County Road 36, which climbs north to the Strawberry Park Hot Springs finish.
"I used (Google's) map program - it tells you the mileage there, and then it's just finding out which route has the least elevation gain in that first mile," Leidigh said.
Fort Collins' Patrick Hanson and Duluth, Minn., resident David Worley tapped the local knowledge and followed Leidigh's lead up the Butcherknife Creek Trail and through the Steamboat Springs Middle School fields.
"I followed him and then I figured my best bet was just to stay on the road," said Hanson, 22, who had a healthy lead heading into the two-mile dirt road climb to the finish. "I had to walk once - I just backed off and tried not to kill myself on the hill. It seemed to work."
Hanson added to his collection of three 2006 Running Series wins by finishing first in 45 minutes, 40 seconds. Worley finished second (46:54), and Steamboat's Allen Belshaw finished third (47:14), just ahead of Leidigh.
On the women's side, Abby Shikles took first in 64:13, Lisa Adams took second (67:06), and Jennifer Kerr (67:44) took third.
Some of last year's local bushwhackers, who blazed trails through prickly sarvisberry bushes in hopes of finding shorter routes, stuck to the trails and roads this time around. Paul Sachs didn't want to have to hop any unexpected fences again, and Andy Picking was pushing precious stroller cargo - his nine-week-old twins and an older daughter. Plus, there was a $100 bounty that race director John Chapman put on the line for racers to break the course record J.J. Huie set last year by sticking solely to the roads.
Hanson was a second shy of breaking the running record. Brad Bingham did claim $100 after setting a new record in the biking portion. Bingham broke his own 2003 record by five seconds, taking top honors in 24:59.
"You really have to go slower on the hill, with a bigger gear and less traction. That climb probably takes five to six minutes right there," Bingham said about the off-road limitations of his racing road bike. Ian Prichard finished in second, and Nate Bird finished third.
"What a super fun race - I mean, for 25 bucks? That's a soak (in the hot springs) and breakfast right there," said Jo Richards, who's been riding at Leadville's higher elevation this summer and cruised to a win in the women's bike division ahead of Holly Wilson in second and Hannah Williams in third.
The next Running Series event is the USATF 10K Trail National Championships on June 30 at Mount Werner. Visit www.runningseries.com for details.