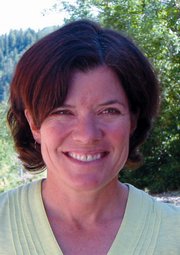 Steamboat Springs — Age: 46
Occupation: Development Director for Rocky Mountain Youth Corps
Place of birth: Springfield, Mass.
Q. When did you move to Routt County and what brought you here?
A. In 1982, to be a ski bum for one season
Q. What's the biggest risk you've taken recently?
A. My first-ever trip to Las Vegas with my girlfriends next weekend!
Q. Describe your morning routine.
A. Shower, coffee, walk the dogs, more coffee
Q. Has a book ever changed your life? What was it and why?
A. Roget's Thesaurus. It helps me sound smarter than I am.
Q. What's the best piece of advice you've ever been given?
A. You reap what you sow
Q. What three things would you want people to know about you?
A. I married Mr. Wright, have two Golden Retrievers and I cheerfully accept donations for the Rocky Mountain Youth Corps.
Q. What did you want to be when you grew up?
A. An astronaut or a Supreme
Q. If you could invite any four people to dinner, who would they be and what would you talk about?
A. Jesus, Jimmy Carter, Mahatma Gandhi and my grandmother. Gram would serve scallop casserole and cheap sherry and we would discuss how to achieve world peace without war.
Q. Do you collect anything?
A. Antique perfume bottles.
Q. In the Meatloaf song, "I'll do anything for love, but I won't do that," what is that?
A. Wear pantyhose
Q. What was your first job?
A. Maid, waitress and dishwasher at a guest house
Q. Who is your favorite superhero? Why?
A. Buffy the Vampire Slayer - need I say more?
Q. Do you have any phobias?
A. Spiders and snakes
Q. If you could go back in time, to what event or time period would you go?
A. Back to the Victorian Era just for the dresses.
Q. What is your favorite thing to do in Routt County?
A. Be outside
Favorites
Book: I have too many favorites to just list one
Song: "One Love" by Bob Marley
Color: Green
Food: Seafood - cooked and raw
Sport to watch: Swimming
Vacation spot: Any beach on any continent
Recreational activity: Biking and skiing
Movie: The Shawshank Redemption
Magazine: Adventure Travel