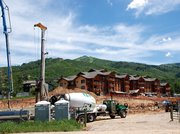 Mountain town prices compared
The asking prices for resort residential properties at the base of the Steamboat Ski Area rose almost 40 percent during the winter, according to more than one real estate expert.
Which raises the question: "Will the market bear those prices?"
Statistics kept by the Rocky Mountain Resort Alliance show buyers are paying much higher prices at other mountain resort towns. And in a number of cases, those real estate markets are significantly larger than Steamboat Springs.
Steamboat posted a record first quarter in 2007 in terms of real estate sales dollar volume, reaching $190.32 million. However, Park City, Utah, had a total volume in the first three months of the year of $486.8 million, and Vail's was more than $600 million. Buyers in Park City, on average, paid more for homes and condominiums than did buyers in Steamboat.
The average price of a home in Steamboat last quarter was $877,548, while in Park City the figure was $1.23 million. The average price in Vail was $1.657 million.
The relative difference in prices is attracting some surprising buyers to Steamboat.
"We are still considered an 'affordable' resort town," said Cheryl Foote of Prudential Steamboat Realty. "We have clients who are brokers from other ski resorts who are investing in nightly rental properties here because they are priced out of their own markets." Grand County and Summit County had lower average home prices than Steamboat. The figure in Summit County was $557,677.
The average prices paid for condominiums in the first quarter were closer when comparing Steamboat ($385,550) to Summit ($326,133). The average price paid for a condo in Park City was $718,408. In Vail, the figure was $1.16 million.
The leader among mountain towns in terms of home price is Telluride, where buyers paid an average of $3.26 million.
Steamboat Springs — The market for resort condominiums in Steamboat Springs is tight, and there isn't much relief in sight for the next couple of years.
Early this month, there were just 56 condominiums listed for sale on the Steamboat Springs Multiple Listing Service. And of those, only 15 were listed at prices less than $500,000.
"The inventory is very limited," Realtor Doug Labor said. "Clients come to us and their expectation is that there will be a variety of condos under $500,000 to choose from."
Of the 15 below the half-million dollar mark, Labor said four were Walton Village units that comprise less than 1,000 square feet. Another two are new products in the Sunray Meadows development, and a fifth is an older Meadowlark condominium, where covenants forbid nightly rentals. Labor is a principal in Buyer's Resource Real Estate.
The scarcity of condominiums here means buyers can't be as selective as they might have been in previous years, Labor added.
Ray Wright of Steamboat Village Brokers said the Steamboat market has been experiencing an undersupply of condominiums for a long time - he was able to identify just 39 for sale at the base of the ski area.
"Prices have shot up so high people are holding onto their condos to see how high they will go," Wright said. "You would think a lot of people would be listing their units, but they're so optimistic about the market, the opposite is true."
He used the well-established Bronze Tree project as an example. One of the most recent sales was in December 2006, when a two-bedroom condo there sold for $399,000. Wright listed a similar condo this spring for $575,000 and it sold for $560,000 within two weeks.
"That's huge appreciation," Wright said. "My market analysis reflects that the mountain area saw a 39 percent increase in values over the winter."
Helping to fuel that upward trend was the news that the Steamboat Ski Area had sold to Intrawest and solid indications that redevelopment of the base area would go forward.
The real estate team of Jennifer Fritz and Cheryl Foote at Prudential Steamboat Realty has listed three modestly priced condos near the ski area at prices ranging from $249,000 to $429,000.
The more expensive of the trio is a 1,300-square-foot, two-bedroom unit at Trollhaugen, just west of the intersection of Mount Werner Road and Steamboat Boulevard.
Built in 1970, the condo is priced at $330 a square foot.
Foote and Fritz also have a one-bedroom condo in Walton Village listed for $259,000. It has been remodeled with a new kitchen featuring marble countertops and hand-textured walls.
"One of the things we remind our buyers of as prices go up is that they are still well below replacement value," Fritz said. "With the increased prices in construction, you wouldn't be able to rebuild the same product and sell it for less."
One of the next sources of new condominium inventory at the base of the ski area could be Bear Lodge, the sixth phase of Trappeur's Crossing Resort.
The developers expect to list the 36 three-, four- and five-bedroom units at prices averaging $1.2 million.