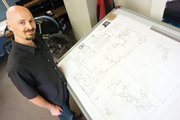 Steamboat Springs — U.S. Forest Service officials hope a new motorized-use map will help off-highway vehicle riders stay on designated roads and trails. The map, which would be specific for the Routt National Forest, is expected to be completed in late September.
"What we are doing is to make it easier for motorized users to be able to determine which roads and trails they are allowed to be on," said Diann Ritschard, public affairs specialist with the U.S. Forest Service.
According to Forest Service officials, motorized use on national forests and grasslands increased from five million users in 1972 to 36 million in 2000. In Colorado, more than 150,000 people are registered to operate all-terrain vehicles, many of which traverse the 1.2 million acres of Routt National Forest.
"Motorized use is a legitimate activity in the national forest," Ritschard said. "Hikers, bicyclers, ATV users, motorcyclists and horseback riders all have a right to use it, but they need to abide by the rules to protect this enormous resource we have."
Nicolai Bencke, a global information system specialist with the Routt National Forest, said the motorized-use map, which is free, is one of the first of its kind created by the Forest Service. Arapaho, Roosevelt and Grand Mesa national forests have completed similar maps.
Citizens will be able to download a PDF version of the map from the Routt National Forest's Web site, and hard copies eventually will be available in area national forest offices and some private businesses.
In Bencke's office, a large easel displays a draft of the motorized-use map. On his desk, adjacent to the map, a computer monitor displays in fine detail a satellite image of a small plot of the Routt National Forest.
"We've got some great imagery these days," he said. "I've gone over most of the forest on my own over the years, but nowadays, with some of this satellite imagery so good, we can map the road right down on top of the image and make sure it's in the right place."
Bencke began working on the map last fall after the Forest Service implemented a travel management rule that mandated all Forest Service offices create a motorized-use map within the next three years.
"We've literally gone through every single road in the forest," said Bencke, who's been mapping roads and trails in the Routt National Forest since 1998. "We already had a whole mapped transportation system, but we went through and saw what was wrong and needed to be fixed."
Maintained roads for automobiles, along with trails for motorcycles, mountain bikes, ATVs and horses are all detailed on the map, but what isn't charted are hiking trails.
"This is to be used as a supplement to the Routt National Forest map and doesn't have the same detail - with topography and such," said Kent Foster, recreation program manager with the Routt National Forest. "When you are out on a road in the forest, and it is not on this map, then you are in a place you are not supposed to be."
Foster said off-highway enthusiasts risk a minimum ticket violation of $75 if they wander off designated roads.
"If it's determined to be flagrant, like a premeditated going across a wet meadow that inflicts resource damage, then we have the ability to fine up to $5,000 and six months in jail," he said. "People need to realize that any violation in a national forest is a federal offense."
Foster added that the map is for summer use and does not change any existing rules for snowmobiling.
The public is invited to discuss the map during a meeting from 4 to 6 p.m. June 27 at the District Ranger Office in Walden; and from 5 to 7 p.m. July 12 at the Yampa Ranger Station in Yampa. In Steamboat Springs, people can stop by the Forest Service office at 925 Weiss Drive anytime during the first two weeks in July to review the map.
"This is just a new way to present information to the public," Foster said. "We are not making any changes to what's currently open and we are not making any new rules."