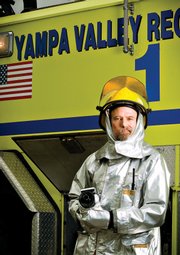 Relay for Life
This is Part 2 in a series of stories on local cancer survivors and victims. The series leads up to the American Cancer Society's Relay for Life fundraiser Aug. 10 and 11 at the Steamboat Springs High School track.
Last year, the American Cancer Society raised $375 million through worldwide Relay for Life events. Last year also was the inaugural Steamboat Springs Relay for Life event. For more information on how to become a part of Relay for Life or to donate money, visit www.ascevents.org...
Steamboat Springs — Firefighter Ken Farmer wears a silver fire proximity suit and shows off the fire trucks at Yampa Valley Regional Airport with all the exuberance of a child with a new toy. Farmer, 54, behaves like a man with a second lease on life - which is exactly what he is.
It is no doubt impressive the way Farmer, a divorced father of two adult children, has battled back from myoepithelioma, a rare form of salivary gland cancer. Myoepithelioma kills 80 percent of its victims; Farmer has been cancer-free for four months.
But perhaps even more impressive is Farmer's positive attitude and refusal to be anyone other than the "same old Ken" throughout the hellish ordeal, his co-workers say.
It would be easy for someone in the same position to give in to negativity, but Farmer refuses. Instead of gloomily discussing how he lost 40 pounds while undergoing radiation and chemotherapy, he casually quips, "I'm back to my high school football weight."
But it wasn't always this easy. Farmer admits to the private struggle he endured while living alone in Denver recovering from two risky operations to remove the cancer from his face. The therapy left him sick, weak and wondering whether it was worth it to live on.
Reserving no credit for himself, Farmer thanks his friends and the community for challenging him to press on.
"You just have to hang on to every resource you have," Farmer said. "Without a community behind me, it would have been disastrous."
Support
A year and a half ago, Farmer went to see a doctor because of swelling on the right side of his face. What appeared to be a swollen lymph gland later was diagnosed a tumor. The cancer had been discovered when it was half an inch from entering Farmer's brain.
There were no answers for why Farmer developed the cancer; he didn't smoke or chew tobacco and, as a firefighter, he was in good physical shape.
Farmer, who is a seasonal firefighter at Yampa Valley Regional Airport, had no health insurance. To finance his treatment at the University of Colorado Cancer Center in Denver, he drained his IRA and savings and entered the Colorado Indigent Care Program, which also required he sell his house.
At the cancer center in Denver, Farmer underwent two delicate surgeries.
"I had one of the biggest tumors they had ever seen in the face," he said.
The first surgery removed the tumor; the second replaced a cancerous nerve leading to his brain with one from his ankle.
"The only thing it tells you is if a horse is standing on your foot," Farmer said.
Six months of therapy, including radiation and chemo treatments, followed the surgeries.
Farmer's friends set up a charitable fund to help him cover the more than $10,000 in medical costs he still was responsible for. The fund eventually raised about $6,000 and drew donations from as far away as Scotland. A Boulder woman gave Farmer an apartment in Denver to live in for free while he underwent treatment. Commuting from home was not an option.
"There was no way to travel back and forth," Farmer said. "You're just wasted every day. It was hard even to drive around Denver because you're so wasted."
The radiation therapy Farmer endured was so intense it burned the inside and outside of his face. The burns were so severe he had to be fed through a feeding tube.
"It was a hell of an ordeal that you never want to go through," Farmer said.
Farmer didn't know if he would survive, or even if he wanted to. He admits to being afraid and worried about what he would look like after all the damage to his face. He described one nightmare in which he saw himself as the masked Phantom of the Opera.
"The worst time I had was on New Year's Eve because I had been throwing up for 24 hours straight," Farmer said. Since all of his medications were oral, they weren't working, and he was forced to go to the emergency room.
"The only thing I was positive on was knowing that I only had five treatments left," Farmer said. "I was ready to give up. I can understand why people say they just wanted to end it all."
Recovery
The odds were against him, but Farmer so far has won a battle that many people lose.
His daughter, Kristina, said she is not one for "false hopes" and admits to preparing to lose her father.
"It was hard," said Kristina, 22, of Steamboat Springs. "It was something that I don't ever hope to go through again. But you learn to value what you have and realize what you might lose."
She said there were changes in her father, as well.
"I think he's stronger," she said. "I think he came back and he knows what he wants to live for."
Ken counts cyclist and fellow cancer survivor Lance Armstrong as an inspiration. He wears one of the yellow "Livestrong" bracelets Armstrong popularized. Farmer said the bracelet is a reminder that fighting cancer is only half the battle. The other half is coming back to live life to its fullest.
So far, it seems Farmer is winning that half of the battle as well. The right half of his face, still noticeably limp, is improving.
"Right now, I have feeling in my face, and I'm getting more movement all the time," Farmer said.
He celebrated his 54th birthday a week ago - a milestone he's proud of.
"I made it," Farmer said. "I didn't know if I was going to see 54."
Kristina said that birthday and today's Father's Day hold much more significance this year.
"There was a huge chance we'd never see him again," she said. "For him to get to this age and survive the cancer is a landmark challenge. Talking to him last summer, we didn't think we'd see this."
Ken returned to work at the airport two weeks ago. Fire Chief Tyler Whitmore and Lt. Shawn Zwak said they were pleasantly surprised Farmer is back on the job. Whitmore said his co-workers kept in touch with him constantly.
"He was always looking forward to coming back," Whitmore said. "That was his goal."
The department could have replaced Farmer, but Zwak said they decided to fill in for him and make sure he had a spot waiting for him if he was ever able to come back.
"The rest of us full-timers and seasonals pulled a lot of the shifts that Ken would have always been there for," Zwak said.
Ken's endurance level is less than it used to be, but much improved from January, when he couldn't walk a block. He walks two to three miles a day to build his strength, and he traveled to Salt Lake City this weekend to participate in firefighting simulations to get recertified by the Federal Aviation Administration.
The testing will be a physical challenge for Ken, and his daughter said she is impressed with how quickly he is bouncing back.
"I'm 22, and I'm trying to keep up with him sometimes," Kristina said. "I've been really impressed with all he's gone through and what he's still willing to put himself through."
Kristina said she sometimes worries her father is pushing himself too hard, but she believes he is capable of returning to work.
"I know he's a fighter and a survivor," she said. "He's not going to back down. It didn't get the best of him. It didn't scare him off. He still wants to run into the buildings that everyone else is running out of.
"He's made it through the fight to save his own life; he knows what it takes to save someone else's."