Fundraiser aims to preserve agricultural heritage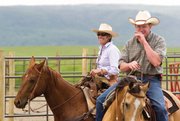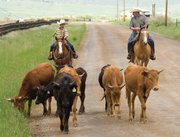 Steamboat Springs — For 9-year-old Yampa resident Eric Logan, working cattle during a Cayuse Classic competition Saturday was just like another day at work - except it was a little more fun.
"It went good," he said from atop his horse, Doc Junior. "Actually, I think it was easier, because you get to do it and practice every day when you live on a ranch."
Highlighting working ranchers and horsemen was one goal of Saturday's second annual Cayuse Classic, a signature event hosted by the nonprofit Community Agriculture Alliance. "Cayuse" is a Native American word for "little pony."
The Agriculture Alliance began several years ago as a way to preserve Northwest Colorado's agricultural heritage, said Marsha Daughenbaugh, the group's executive director.
"Agriculture is important and here to stay in this valley, and we need to keep it alive," she said. "I think Cayuse (Classic) is going to become a statement that preserving agriculture is a huge part of this area."
Longtime Routt County resident and horse trainer Jason Patrick was excited to participate in an event that showcases an oft-forgotten lifestyle.
"Sometimes we forget that there are a lot of us that still make a living on the back of a horse, even in Ski Town USA," he said. "I like the Cayuse Classic because it's redneck fun."
Patrick recently took second place in Country Music Television's "America's Top Cowboy" national competition in Alpine, Texas.
Patrick demonstrated some of his skills Saturday during an afternoon exhibition along with three other locally and nationally recognized equine experts.
Medora Fralick, the event's horse coordinator, said the four horse competitions included a guided poker run trail ride, youth gymkhana, versatility and a cross country pair pace.
"It's been very successful," she said. "We hope to keep building on this event."
Fralick estimated 300 people would attend the evening's barbecue and live auction in addition to the spectators that filled Sidney Peak Ranch's stands to watch the horse events.
"I think it's important for us to bring together all facets of the community to center around agriculture," she said. "Today is just as much about awareness as it is anything else."
Logan agreed.
"I like it because I get to ride my horse and have fun."