Past Event
Monday, June 18, 2007, 9 a.m.
Sheraton Steamboat Resort, 2200 Village Inn Court, Steamboat Springs
All ages / Free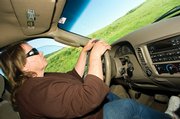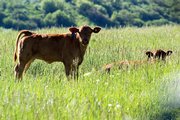 Driving a four-wheel-drive pickup across her ranch in designer sunglasses, Jo Stanko represents the dual identities of Steamboat Springs.
The contrast between the high-end resort feel of the city and the rural ruggedness of ranches just minutes away can be striking. The former, a bellwether. The latter, a relic.
In his book, "Where the Old West Stayed Young," John Rolfe Burroughs wrote, "The rails of the : Moffat Road did not reach Steamboat Springs : until Dec. 13, 1908. For the next several years, more cattle went to market from the Steamboat Springs stockyards than from any other shipping point in the United States."
In the near century since, King Cattle has been dethroned. Challenges and contradictions face the industry that helped sire Steamboat, from population growth and rising land prices to competition with corn production for ethanol. The number of cattle in Routt County has fallen from about 46,000 to 21,000 in the past decade, according to statistics from the Department of Agriculture and the Colorado State University Cooperative Extension Service in Routt County. Beef cow numbers have fallen from more than 20,000 to about 12,000 in the same time frame.
Many of the issues facing the cattle industry will be discussed beginning Monday when the Colorado Cattlemen's Association, Colorado CattleWomen and the Junior Colorado Cattlemen's Association hold their annual convention and trade show, "Beefing Up the Future," at the Sheraton Steamboat Resort Hotel.
Challenges
Routt County Extension Service Director C.J. Mucklow said many challenges face the local cattle industry, particularly rising land costs and competing land uses.
"Ranchers can't buy land," Mucklow said. "It's too expensive. I don't know a single rancher who doesn't lease some land."
Stanko and her husband, Jim, raise cow calves on their Steamboat ranch, selling 75 to 80 a year. Their responses to the challenges of raising cattle these days are typical - they lease some land for their cattle to graze on, and they supplemented their income with second jobs earlier in life. Jo Stanko was a teacher at Soda Creek and Strawberry Park elementary schools, and Jim Stanko was a county extension agent. The Stankos also collect rent from a Bridgestone winter driving school that operates on their property.
Mucklow said the lack of young ranchers is another challenge to the future of the county's cattle industry. In their late 50s, the Stankos are near the average age of about 60 for Routt County ranchers. And like other ranchers' children, their son chose to pursue a different career - computer engineering.
Some of the challenges to the local cattle industry, such as population growth, are nothing new.
"Growth's been an issue in Colorado for 25 years," said Terry Fankhauser, executive vice president of the Colorado Cattlemen's Association. As interaction between urbanites and rural ranchers increases, so does the potential for conflict.
"You have people who move out into the country, who don't understand what it means to live in the country," Jo Stanko said.
She said with more people come more complaints, more regulations, more zoning restrictions and more water rights disputes, all of which can threaten ranching.
"People are so removed from where their food comes from that they don't see ranching as a valuable use of the land," Jo Stanko said.
Other problems are just coming to the forefront.
The government's promotion of ethanol as an alternative fuel source has led to increased competition for corn, a principal ingredient in cattle feed.
Fankhauser said the subsidies given to ethanol producers to purchase corn are unfair.
"We're an organization that promotes free and fair markets," Fankhauser said. "We don't have a problem with the competition, but we're at an unfair disadvantage when it comes to purchasing food."
Hovering around $4 a bushel, corn is at its highest price in about a decade.
This challenge is somewhat mitigated locally, because most Routt County ranchers are cow calf producers like the Stankos. Corn is used mostly in feedlots where older cows are fattened up before being slaughtered and processed.
Routt County also is fortunate to have enough quality grazing land to lessen the need for feed.
"It's a great grazing environment in the summertime," Mucklow said. "One of the best in North America."
However, as feedlot ranchers have to pay more for their feed, they are paying less for the calves they buy from the cow calf operations prevalent in Routt County. Jo Stanko said the price she fetches for her calves has been in decline.
Good news
Despite the hardships for local cattle ranchers, there is some good news.
"The cattle business has been through one of its best cycles in years," Mucklow said. "The reason that is, is because we've had slightly increased demand for beef and tight supply."
Fankhauser said although the Colorado cowherd has shrunk throughout a seven- to 10-year drought, the weather has been good this year and restocking may start to take place.
"Green pastures maybe will equal green money in the future," he said.
And while the government is frustrating ranchers by subsidizing ethanol, President Bush has made opening up the international beef trade a top foreign policy priority. American beef is back on the Japanese market after a three-year absence, and there are hopes of restoring the beef trade with South Korea.
Mucklow said export growth and confidence in the health safety of American beef are key issues facing the industry. Jo Stanko said a 2003 mad cow disease scare - caused by a single cow in Washington that was imported from Canada - "devastated" the industry, but that consumers now are better educated and less frightened by such news.
The future
Fankhauser said there has been a consistent downward trend for cattle ranching in Routt County as commercial and residential development has become more profitable, but that it will remain a viable option for some in the future.
"It's become a less desirable place for production agriculture," Fankhauser said. "But it's something that will never go away."
Mucklow said when it comes to the future sustainability of the local cattle industry, the question is whether it can survive in the face of more profitable land uses. Jo Stanko agreed, but said emotional ties to ranching outweigh the economic incentive to sell out. She said ranching becomes one's identity.
The Stankos purchased their ranch from Jim's father in 1974. This year, the ranch will have been in the family for 100 years, earning it a centennial ranch award from the Department of Agriculture.
"It's a great lifestyle, and it's a great way to bring kids up," She said. "It's kind of an emotional tie to the land and a tie to what you do."