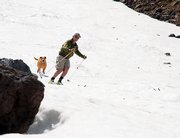 Steamboat Springs — A Steamboat Ski Area official teased the news this week that the mountain achieved a record number of skier visits during the 2006-07 ski season. However, he stopped short of revealing the magic number.
I've got news for everyone. Ski season isn't over yet. In fact, it's never over.
Buck the Wonder Dog and I set out into the Flat Tops Wilderness last weekend to see if we could prove the point. We returned with photographic evidence that the ski season still is under way. Sure, the ski lifts operating in Colorado right now won't deliver you to snow (although a trip to Oregon's Mount Hood could fix that situation). But there's still skiing to be had for anyone willing to earn their turns.
I'm not delusional. I wasn't expecting powder skiing. But winter came to an abrupt end for me this year, and I needed a little ski fix to get me into July.
When I left town for the Grand Canyon on March 8, there was 3 1/2 feet of dense snowpack on the hood of my red pickup truck. When I returned 20 days later, it had disappeared. Somehow, my brain had shifted gears and entered summer mode. I didn't ski again until this past weekend.
We drove about 42 miles south of Steamboat Springs on Colorado Highway 131 and continued through the town of Yampa onto Routt County Road 7. The road follows the Bear River into the Flat Tops for 6.4 miles before it turns into Forest Road 900. You reach the Mandall Trailhead in another 5.6 miles. It's above Yamcolo Reservoir. The road is bone dry already.
After parking at the Mandall Lakes Trail, adjacent to Bear Lake Campground, I stuffed my cross-country ski boots into my backpack and slid the tails of my Nordic skate skis into the external pockets on the pack. The pockets are made just for this purpose, and straps on the side of the pack are intended to stabilize the load. The tips of the skis were strapped together, forming an elongated A-shape above the top of the backpack.
The hike into Slide Mandall is only three miles, but climbs well above 9,000 feet. Beyond Mile 1, hikers find themselves slowed down a little by frequent stream crossings. I was able to easily cross the streams on log bridges and never really got my feet wet.
I was actually anticipating more snow than we encountered and expected to use my skis on a flat snowfield. It didn't turn out that way.
It quickly became apparent that the only extensive snow I would encounter below 11,000 feet was going to be on a north-facing slope that would necessitate making some turns. I practice a shuffling form of a parallel turn on my skate skis any time I ski the trails at Howelsen Hill. I like to skate up the baby hill next to the carrot lift and then ski down as if I had slalom skis on my feet.
For that reason I felt reasonably confident I could make some awkward turns on an old avalanche runout that came into view as we approached the Slide Mandall Lake.
After bushwhacking across the many deadfall trees that ring the lake, we climbed a steep little slope and found ourselves in the volcanic talus on the edge of a broad apron of snow.
Buck and I were not alone, but I was the only skier in the party, and I decided to be conservative. The snow pack was well condensed and settled, but a big cornice still hung on the rim of the Flat Tops. I decided not to push high up the slope and limited myself to skiing the final 150 meters of snow.
The slope was less than 20 degrees, and a friend of mine with many years of avalanche expertise reassured me it was unlikely to slide. Just the same, everyone who heads into the backcountry should exercise caution and, except for the black rocks sticking up out of the snow here and there, this was about as good as June skiing gets on the 40th parallel.
There's still some white stuff up there if you care to go get it.
Ski season is a state of mind.