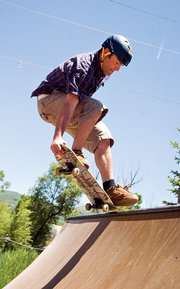 Steamboat Springs — The Howelsen Hill Skate Park can be a little intimidating for skateboarders still learning the ropes, especially on summer afternoons packed with more than 20 skaters.
"There's no room for beginners and no place for them to spread out," Jon Casson said. "We need to build a larger park and create opportunities for kids to feel comfortable without getting run over by the bigger kids."
Casson, the snowboard program director for the Steamboat Springs Winter Sports Club, hopes to remedy the problem by coaching a series of three, three-week beginner skateboarding courses offered by the city of Steamboat Springs Parks, Open Space and Recreational Services department. The classes are for children seven to 12, cost $100 and will meet twice a week (Tuesdays and Thursdays) at the Skate Park to help kids master the basics.
After the success of the city's beginner classes last year, Casson expanded the lessons to include three courses (which convene Wednesdays) for intermediate-level riders (ages 10 to 14), as a "good, safe way to learn new tricks."
The first three-week blocks of courses began this Tuesday and Wednesday, and the next beginner and intermediate blocks will begin July 10 and 11, respectively. Skaters must provide their own equipment, including required helmets and recommended knee and elbow pads.
As for the skaters at the other end of the spectrum, Casson also has an answer. Starting Monday, Casson plans to host a weekly field trip for advanced skaters, through the SSWSC, to the state's premier skateparks. Citing the inadequacies of a crowded local skatepark, Casson sees the program as a way to answer the demand to ride the dynamic features of all-weather parks that have become the statewide norm.
"We made probably 10 to 11 trips last year," Casson said. "We'll go to Silverthorne and then go to Frisco and see the whole area. Maybe it's the Aspen area. Maybe it's Denver and then we drive 20 minutes to Aurora, getting to three of four parks in a day." The cost of the trips is $50 each.
To register for one of the city's skateboard courses, visit the Parks and Recreation office at 245 Howelsen Parkway or call Susan Peterson at 879-4300. For more information on the advanced trips, call Casson at 846-1599.
- To reach Dave Shively, call 871-4253
or e-mail dshively@steamboatpilot.com