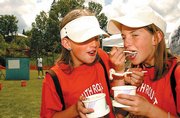 If you go
What: 10th annual Taste of South Routt
When: Noon to 6 p.m. June 23
Where: Decker Park in Oak Creek
Cost: $1 entry fee for everyone 12 and older; free for everyone else
Call: For more information, to volunteer or to make donations to the silent auction, call Karen Tussey at 638-9752
South Routt — Spending time on the lawn, sampling great food and catching up with friends is easy at the Taste of South Routt.
"It's probably one of the best small-town festivals in Colorado," said Oak Creek resident David Moran, who has been involved in planning the event for many years. "Over the years, we've worked to maintain that small-town feel."
The 10th annual Taste of South Routt is from noon to 6 p.m. June 23 at Oak Creek's Decker Park. The event features local business booths and food, a beer garden, live music and entertainment, musical chairs, a dunking booth, a silent auction and games for children. Featured musicians include Cary Kampershroer, African drummers, Incognito and Moran, who also serves as the event's emcee.
Karen Tussey, secretary for the South Routt Economic Development Council, said the Taste of South Routt helps support the council's yearlong projects, which include moving a historic log home to be used as a visitors center, publishing the annual South Routt Business Directory and funding a new $500 scholarship awarded to a graduating Soroco High School senior.
"I love all those people who come to the (Taste of South Routt), because everyone's so happy," she said. "Everyone just walks around all day with a smile on their face."
Moran said he looks forward to the Oak Creek Fire Department's "Wall of Water," a Taste of South Routt favorite.
"Of course, the fire department is doing their infamous 'Wall of Water,' which is so much fun. The kids always love it," he said.
Tussey said event organizers are looking for volunteers to help set up and take down the event, and donated items are needed for the silent auction.
"The more the merrier," she said.
Residents from all parts of Routt County are invited to the event, Tussey said.
"If you want to see what the heart and soul of this valley is all about, then come on down," she said.